By far the largest state in the USA, Alaska offers profoundly beautiful national parks, superb wildlife and charming pioneer townships resting amongst some breathtaking scenery.

Stand out attraction of the state is the stunning six million acre Denali National Park, home to North America's highest peak, Mount McKinley, but the incredible wildlife including wolves and grizzly bears will also take your breath away.

Alaska cruises are an immensely popular way to explore this vast wilderness in comfort and style while other more hardy souls love the hiking, biking and camping opportunities offered by an adventure holiday.

Self drive holidays prove a flexible halfway house between the two with wide open roads, comfortable hotels and surprisingly short driving distances for such a huge state.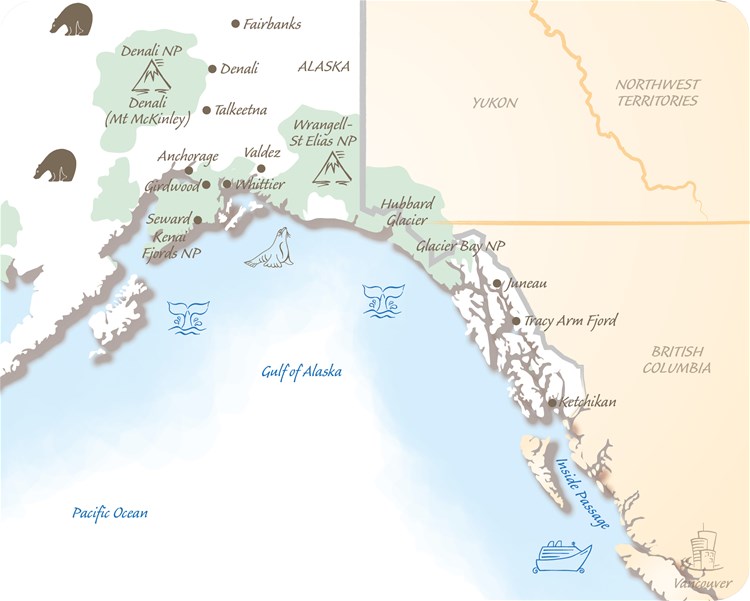 ---
To Book
We believe booking online is no substitute for one-on-one service. Between them our expert travel consultants have travelled to over 96% of the world's countries. As a result the service and advice they offer is second to none.
TAILORMADE TRAVEL WORLDWIDE
020 7368 1200
CRUISE TRAILFINDERS
020 7368 1300
FIRST & BUSINESS CLASS_TRAVEL
020 7368 1400
or visit
your local travel centre
Special Offers for Canada & Alaska