South Korea is a captivating blend of old and new – a country where towering skyscrapers and the latest technology sit side by side with historic monuments and traditional cultures.

Seoul is every inch the modern capital and boasts the latest in shopping and entertainment as well as traditional markets and historic palaces.
The narrow streets of Insadong, are brimming with art galleries, shops and tearooms and the city boasts one of the largest and oldest traditional markets in the country.

To the north, the Demilitarised Zone, 2 mile wide strip of no-man's land that has acted as a buffer zone between the two Koreas since 1953, provides a fascinating insight into one of the last remnants of the Cold War.

Gyeongju, "The Museum without walls", was once the capital of the Shilla Kingdom and is home to no less than 3 World Heritage sites and beautiful mountain scenery dazzling temples and ancient landmarks.

The volcanic island of Jeju is renowned for its natural beauty and is South Korea's premiere holiday destination with spectacular panoramas from Sunrise Peak and the beautiful Sangumburi Crater, Yongduam Rock and Dragon Pond.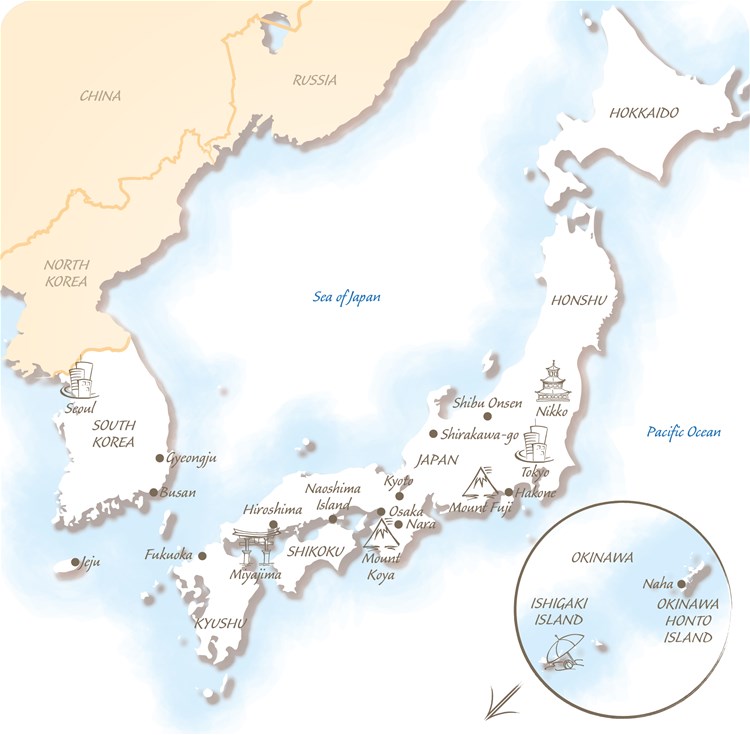 ---
To Book
We believe booking online is no substitute for one-on-one service. Between them our expert travel consultants have travelled to over 96% of the world's countries. As a result the service and advice they offer is second to none.
TAILORMADE TRAVEL WORLDWIDE
020 7368 1200
CRUISE TRAILFINDERS
020 7368 1300
FIRST & BUSINESS CLASS_TRAVEL
020 7368 1400
or visit
your local travel centre
Special Offers for China, Hong Kong & Japan