Warm and welcoming, Sri Lanka boasts wonderful palm fringed beaches with tranquil bays and peaceful village communities.

Friendly people, mouth-watering food and an abundance of arts from graceful Kandyan dancing to fire walking awaits you while, if you can tear yourself away from the beach, the ancient cities of Anuradhapura and Polonnaruwa, along with the spectacular rock fortress of Sigiriya, beg exploration.

Further inland, the plains give way to soaring mountain peaks carpeted with rows of tea plantations and a cool, refreshing climate.
Sri Lanka's verdant national parks are a haven for wildlife, from 431 species of bird to majestic elephants and even leopard.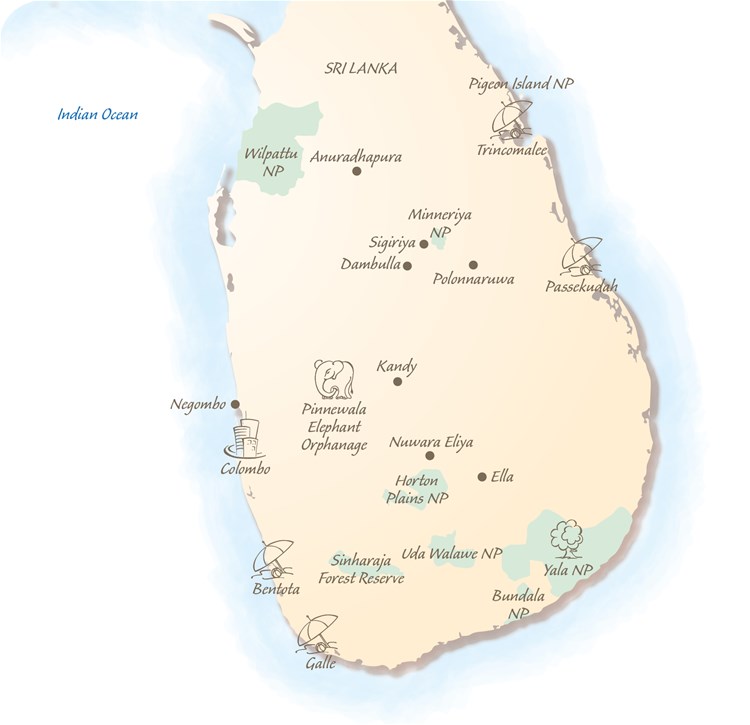 ---
To Book
We believe booking online is no substitute for one-on-one service. Between them our expert travel consultants have travelled to over 96% of the world's countries. As a result the service and advice they offer is second to none.
TAILORMADE TRAVEL WORLDWIDE
020 7368 1200
CRUISE TRAILFINDERS
020 7368 1300
FIRST & BUSINESS CLASS_TRAVEL
020 7368 1400
or visit
your local travel centre
Special Offers for India, The Himalayas & Sri Lanka