Tiny and remote, the Cook Islands are a pure paradise.

Mountainous Rarotonga, cloaked in forest and surrounded by sandy beaches and coral reefs is heart breakingly beautiful, whilst offshore the island atoll of Aitutaki, with its a vast turquoise lagoon and tiny islets of swaying palms and sugar white sands, is many people's idea of the perfect castaway island.

Cook Islanders are said to be the friendliest people in the Pacific… which is quite saying something.

As wonderful as the beaches are, there's also plenty to satisfy the adventurous spirit in the Cooks.
Stretch your legs on one of the many trails criss-crossing mountainous Rarotonga, hire a bike and explore deserted beaches, quiet lanes and little villages or hop on a jeep or quad bike tour into the rugged interior.
Out on the water, the reef protected lagoons are perfect for kayaking, swimming and kitesurfing, whilst below the waves the snorkelling and diving are simply world class.

Aitutaki's natural beauty is simply stunning and it's no exaggeration to say it is the jewel in the Pacific's crown.
The spectacular lagoon of crystal clear water is encircled by uninhabited emerald islands, gleaming white sand bars and colourful coral reefs, teeming with fish.
Utterly tranquil and impossibly romantic this would be a wonderful place for your dream honeymoon.

Traditional island songs and dance always play a part in the evenings.
Cook islanders are considered the best dancers in Polynesia, and the movements, often dedicated to the god of fertility, are sensuous and sometimes even downright racy.
Island nights combining a traditional feast and dancing are not to be missed.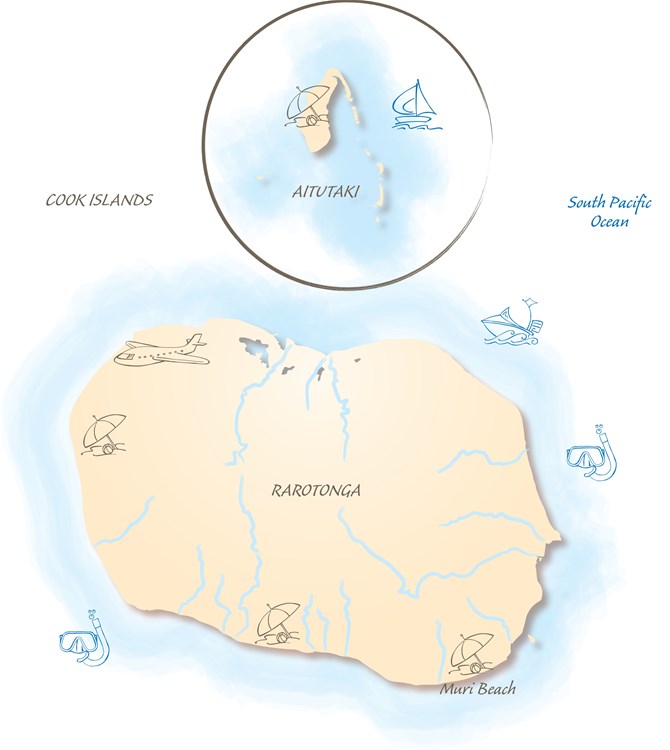 ---
To Book
We believe booking online is no substitute for one-on-one service. Between them our expert travel consultants have travelled to over 96% of the world's countries. As a result the service and advice they offer is second to none.
TAILORMADE TRAVEL WORLDWIDE
020 7368 1200
CRUISE TRAILFINDERS
020 7368 1300
FIRST & BUSINESS CLASS_TRAVEL
020 7368 1400
or visit
your local travel centre
Special Offers for New Zealand & The Pacific