Sink you toes into powder soft sand, listen to the gentle lap of ocean and let out a long contented sigh of pleasure…welcome to Fiji time.

Tranquil, welcoming and heart-stoppingly beautiful, Fiji's beaches could have been designed as the cure for our hectic 21st century lifestyles.
There's over a thousand miles of coastline to pick from ranging from long swathes of soft sand backed by luxury resorts to tiny hidden coves that have never felt a human footstep.

Known as the soft coral capital of the world Fiji's snorkelling scuba diving is superb. From shallow sunlit coral gardens to sheer reef walls, there's enough to keep everyone from first timers to veterans enthralled.

For the ultimate Fiji experience, head to one of the idyllic Mamanuca Island resorts to be surrounded by vibrant coral reefs, azure turquoise lagoons and pristine white sand beaches.

If you can drag yourself away from the beautiful beaches, a relaxing stroll or river ride will reward you with incredible views of rugged volcanic craters, cascading waterfalls and rolling rainforest clad hills.

With over 300 islands scattered offshore this is the place to indulge those castaway fantasies. Idyllic chic island resorts promise the ultimate honeymoon or getaway but if you are looking to explore the more remote havens, a cruise could just be the answer.

Boutique small ships and catamarans ply the waters of the rugged Yasawa chain, anchoring in secluded bays and lucky travellers can sunbathe on deserted beaches, snorkel, enjoy a beach barbecue and explore remote villages.
Wherever you choose to relax and unwind, you'll be overwhelmed by the warmth of the Fiji islands' welcome.

In fact the only thing more dazzling than the beaches are the smiles of the local people.

Warm, welcoming and happy, no wonder Fiji is called the 'Isles of Smiles'.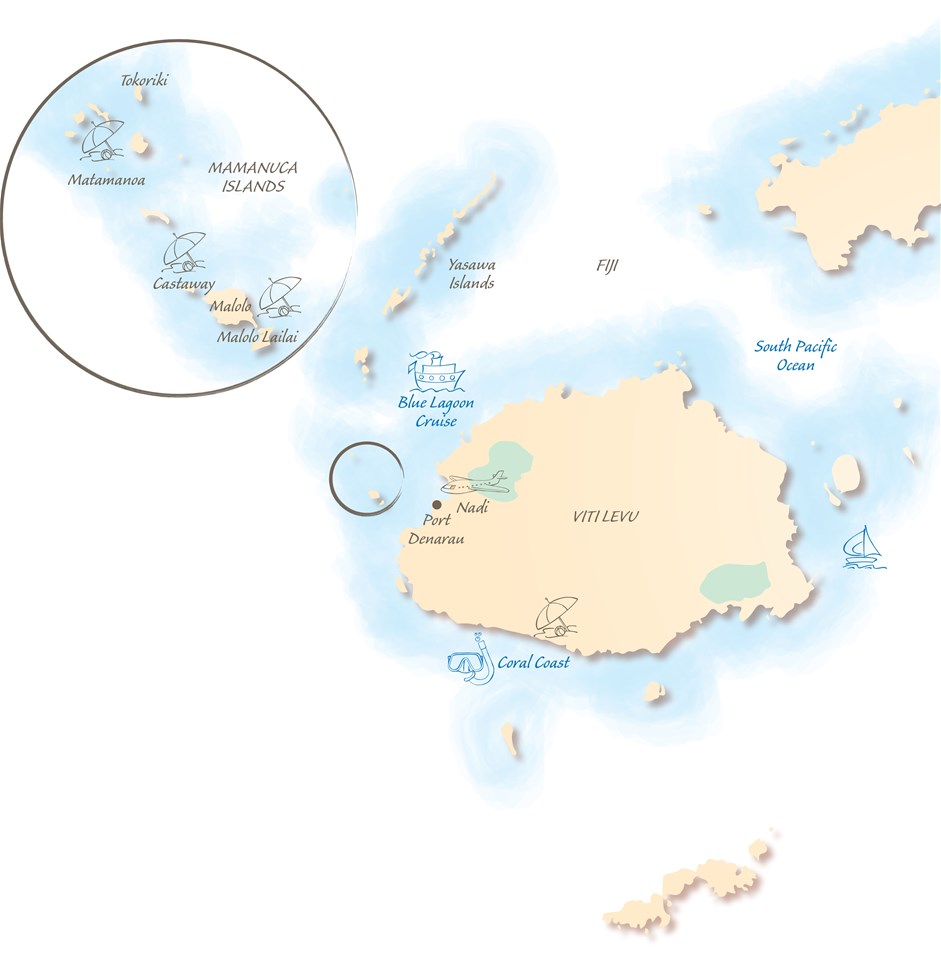 ---
To Book
We believe booking online is no substitute for one-on-one service. Between them our expert travel consultants have travelled to over 96% of the world's countries. As a result the service and advice they offer is second to none.
TAILORMADE TRAVEL WORLDWIDE
020 7368 1200
CRUISE TRAILFINDERS
020 7368 1300
FIRST & BUSINESS CLASS_TRAVEL
020 7368 1400
or visit
your local travel centre
Special Offers for New Zealand & The Pacific