Chile is a land of extremes as you'd expect from a country that stretches over 2,500 miles.

With stunning landscapes stretching from flaming red deserts and golden beaches to snow capped mountains, if you love the great outdoors then this is the country for you.

The modern capital Santiago rests within an easy day's distance of the snow capped peak of Aconcagua and the renowned vineyards of the Colchagua Valley.

To the north the barren beauty of the Atacama Desert is a photographer's dream with its ethereal dunes and lunar landscapes and the laidback oasis town of San Pedro is the perfect place to unwind and explore the desert and nearby El Tatio geyser field.

To the south in Patagonia lies the towering granite peaks, turquoise lakes and vast glaciers of the Torres del Paine National Park, one of South America's stand out attractions and a magnet for hikers, wildlife enthusiasts and anyone seeking solitude.

Less wild but no less beautiful Chilean Lake District is a breathtakingly beautiful stretch of snow capped mountains forest fringed lakes and charming Alpine ski resorts.

More off the beaten track lies the fascinating fishing villages & UNESCO listed churches of Chiloé Island and far out in the Pacific the enigmatic Easter Island, utterly isolated and scattered with mysterious stone statues is like nowhere else on earth.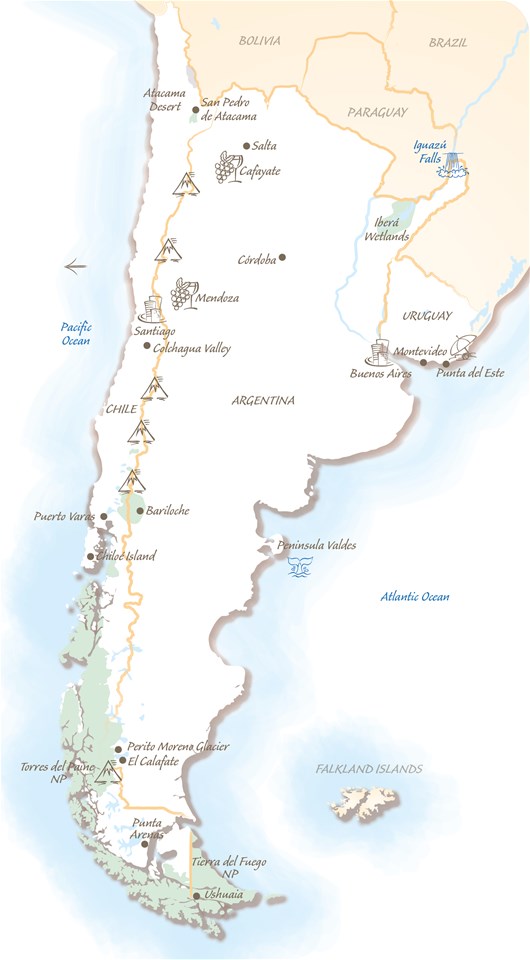 ---
To Book
We believe booking online is no substitute for one-on-one service. Between them our expert travel consultants have travelled to over 96% of the world's countries. As a result the service and advice they offer is second to none.
CENTRAL & SOUTH AMERICA SPECIALISTS
020 7368 3811
or visit
your local travel centre
Special Offers for South & Central America