Imagine a small country, packed with active volcanoes, indigenous tribes, colourful markets, misty cloud forests, tropical beaches, colonial architecture, tropical rainforest, ancient artefacts and ruins thousands of years old.

A country also boasting islands that changed the way we view the planet.

Flamboyant, joyful carnivals, fun, spirited people and a diversity of nature to match anywhere else on earth.

Well, there is such a place.
Holidays in Ecuador can be tailor-made with Trailfinders, meaning you can see what you want, how you want. The utterly unique Galapagos Islands should certainly be on your list, but back on the mainland, the choice really is endless.

In old Quito, churches decorated entirely in Spanish gold-leaf line the cobbled streets along with pastel coloured buildings and crumbling bell towers.
There's a modern side to the mountain-framed city too and, just two hours away, is the centre of the earth, the equator, and Otavalo Market.
Since pre-Inca times, jungle traders would travel here by foot to sell their wares and to this day, the tradition continues, just amplified as thousand of traders from across the continent converge to trade every week.

Following the Andes southwards, along the Avenue of the Volcanoes, past Cotopaxi and the many haciendas to stay in, you'll have the chance to ride the famous 'Devil's Nose' train before arriving in charming Cuenca.
A quaint, historic town set along a river the pace of life her is blissfully slow. Try the local speciality here – cuy, wander the age-old streets and plazas or enjoy a coffee with the locals.

However, if its wildlife you're after, then from Quito, simply head west an hour or two for magical Cloud Forests, such as Mindo, one of the most biodiverse regions of earth.
To the east, however, is the Amazonian rainforest.
Different entirely to the mist and the hummingbirds of the cloud-forests; here caimans, giant river otters, piranhas and macaws call this rich, verdant land home.

Ecuador really does have it all.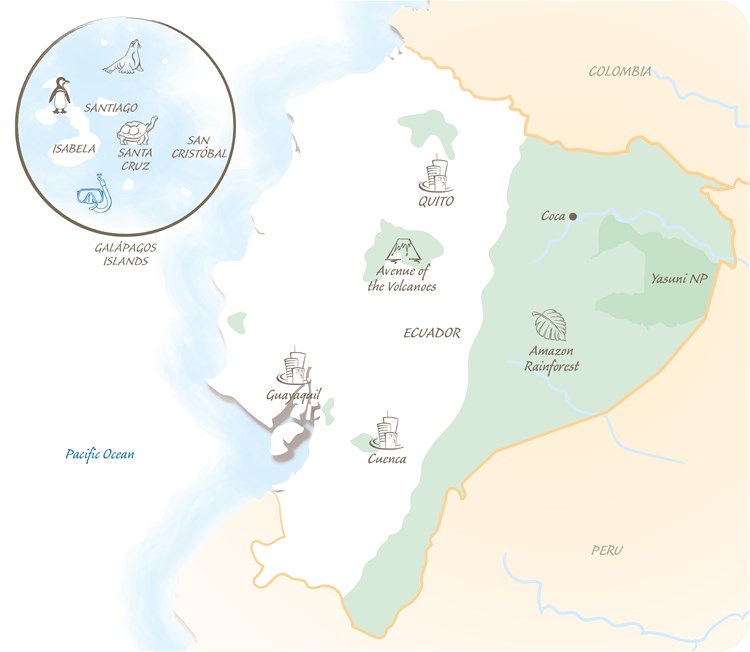 ---
To Book
We believe booking online is no substitute for one-on-one service. Between them our expert travel consultants have travelled to over 96% of the world's countries. As a result the service and advice they offer is second to none.
CENTRAL & SOUTH AMERICA SPECIALISTS
020 7368 3811
or visit
your local travel centre
Special Offers for South & Central America