America's South boasts famous hospitality and southern belles, glorious beaches, Jazz, Blues & Country and the spiritual home of the cowboy.

New Orleans captivates your senses with its charming buildings, lush courtyards and colourful history. Stay in the legendary French Quarter and experience traditional jazz on Bourbon street.

Louisiana and Mississippi boast majestic, lovingly restored plantation homes with elegant columns, grand staircases and period furnishings that evoke a real sense of the Old South. Stay in Louisiana's Plantation Country for mansions along the 'River Road' or head to Natchez in Mississippi for a delightful, historic city full of charming antebellum architecture.

Memphis and Nashville are at the centre of America's legendary music history. Memphis is the birthplace of the blues and home to Elvis' house, Graceland, whilst Nashville is the world famous home of country music and the Grand Ole Opry.

Georgia and South Carolina offer an opportunity to experience a fusion of modern cities, stunning scenery and Southern charm. Plantation homes and graceful architecture, cobbled streets, broad beaches and golf courses all add to the appeal.

Texas will fulfil your dreams of the wild frontier with cowboys, ranches and unending plains. Less well known are charms of the cities, from modern and creative Austin and Houston and Spanish influenced San Antonio to historic Fort Worth where you can still witness cattle drives through the streets today.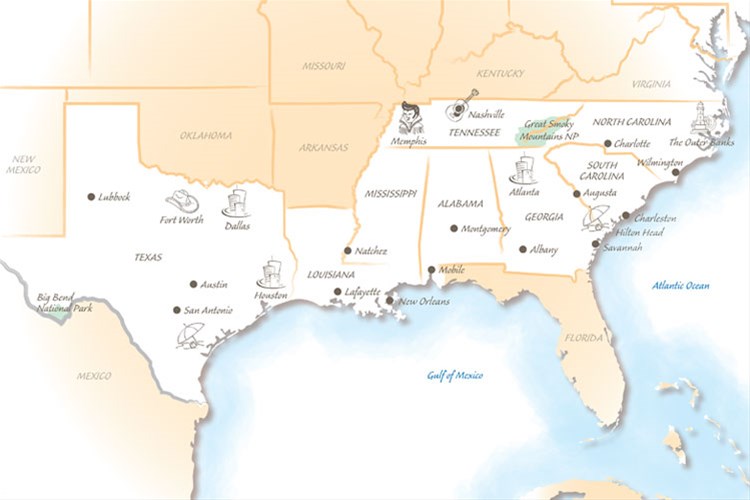 ---
To Book
We believe booking online is no substitute for one-on-one service. Between them our expert travel consultants have travelled to over 96% of the world's countries. As a result the service and advice they offer is second to none.
TAILORMADE TRAVEL WORLDWIDE
020 7368 1200
CRUISE TRAILFINDERS
020 7368 1300
FIRST & BUSINESS CLASS_TRAVEL
020 7368 1400
or visit
your local travel centre