Whe is the Best Time to Visit Vietnam?
Vietnam is notoriously one of the trickier parts of Asia to wrap our heads around its seasons and weather patterns. In a nutshell its best to go in our winter, however, due to its unique long and skinny shape and varied exposure to the elements, there are some subtle tips and hints we can give you to get your Vietnam adventure perfect!
---
Tet
Before I get too stuck in to when is the best time to go to Vietnam, let me take a moment to to talk about Tet.
Tet is the Vietnamese Lunar New Year festival and widely regarded to be the most important festival of the year. It starts on the first day of the new lunar calendar (generally the first few days of February) and goes on for about a week. Although it sounds wonderful to be in a country for its festivals, the truth is all of the Vietnamese head home for the week. If your too keen to book those flights you've seen cheap online, they might be cheap for a reason and you could miss out on some real key experiences!

My advice is to try and avoid Tet. The celebrations look great but a lot of the cool things to do and see aren't operating.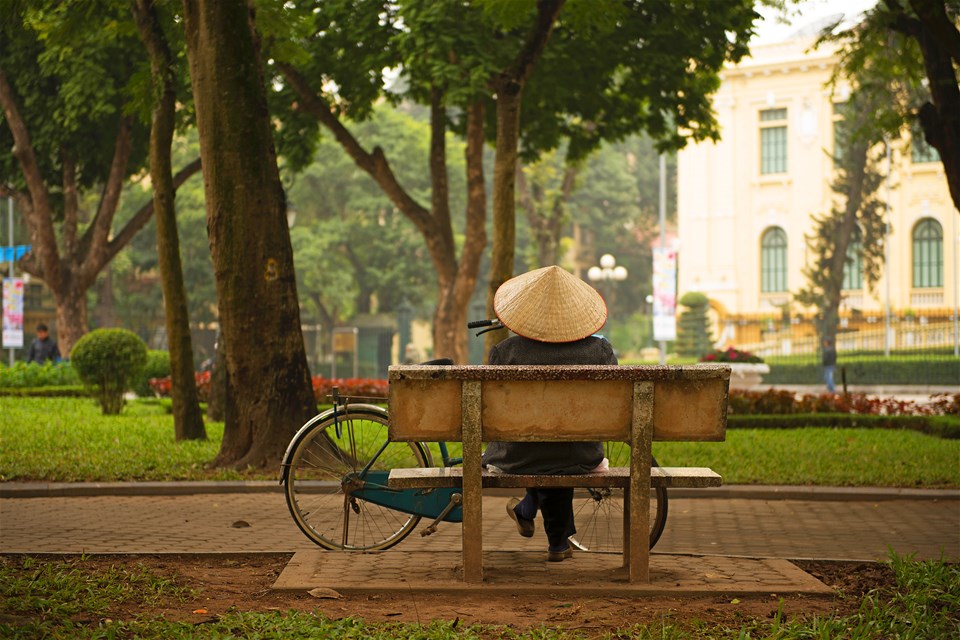 ---
What are we here for?
So we know about Tet, now what? Location and seasons.
As always, when to go depends on what's taking you all the way to Vietnam. The key thing to work around is whether you're interested in a tour throughout the country or a fly and flop beach break. A tour will largely take you through three areas, the north, the centre and the south, which is also likely to take you through a number of different weather patterns during any season. There are a few nice beachy spots and the rainfall varies depending on which part of the country your beach is in and which time of year you're travelling. As a general rule of thumb its drier in our winter months, the ideal time being January through to April.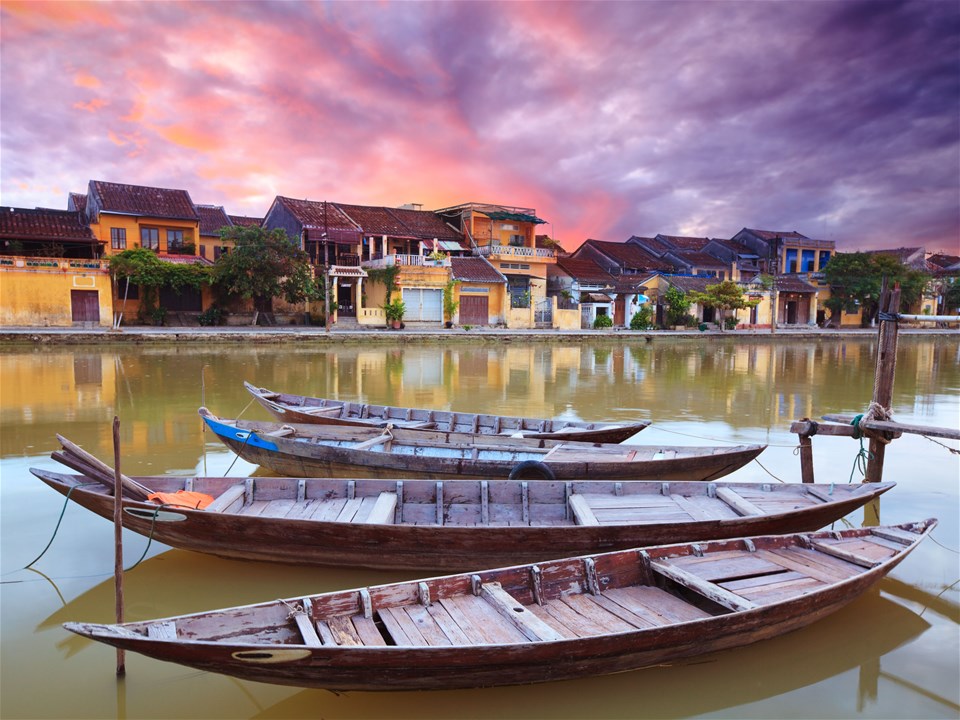 ---
Northern Vietnam
Northern Vietnam truly is a special and varied place. Hanoi, for many, is their entry point to the country and first taste of Vietnam. Within a day or two of being in Hanoi it fast became one of my new favourite cities. A real mix of old and modern, once acting as the communist base during the Vietnam War and now teeming with millions of mopeds, all squeezed into the old building restrictions of the communist era. It's energetic to say the least, I loved it.
Any time from November through to March is a perfect time to visit this area. Relatively warm and dry, it will be a pleasure to walk about the city exploring its maze of little lanes and side shops. Halong Bay is truly the gem of this country. Trying to catch it on a clear day can make the world of difference to your experience, memories and holiday pics. I visited during the off season in June and arrived into Halong Bay, slightly disheartened on a very grey and overcast day. Luckily for me the sun broke through the clouds and gave us some really dramatic sunsets as we sailed past the towering limestone stacks. It was a fabulous experience nonetheless but if you demand blue skies - take note.
For those thinking of trekking into the highlands of Sapa, the key to the temperatures is your altitude. Snow is probably the last thing people expect to see in Vietnam but the elevation into the hills around Sapa rises quickly and temperatures drop accordingly, especially at night. March through to May is likely a better time for this trek (see our Sapa Extension for more info on how to enjoy this special region).
JAN
FEB
MAR
APR
MAY
JUNE
C
R
C
R
C
R
C
R
C
R
C
R
Hanoi
20
2
20
3
23
4
28
10
32
18
33
24
JUL
AUG
SEP
OCT
NOV
DEC
C
R
C
R
C
R
C
R
C
R
C
R
Hanoi
33
26
32
30
31
23
29
13
25
6
22
2
C- Average daily maximum temperatures: R - Monthly rainfall in cm

---
Central Vietnam
Many people will head from Hanoi down to Da Nang on the next stage of their trip. Da Nang is nestled between the two key areas of central Vietnam, Hue and Hoi An.
Hue is known for its imperial history and was once the former capital and is a wonderful place to explore on foot. World Heritage listed Hoi An also boasts a charming historic old town, some lovely nearby beaches, and is close to the ancient temple complex of My Son. The two are linked by the dramatic Hai Van Pass, one of the most scenic roads in the world. These areas are fairly good for the majority of the year, with the exception of some sporadic heavy rain fall in September, October and November. Not the end of the world, just make sure you don't plan a long beach break in Hoi An during this season.
You can't go too far wrong in this area once you've figured that out. There's no bad way to do Hoi An. I was beach based for a few nights, which was nice to break up a busy first week or so in the country. However waking up in the heart of Hoi An with the village on your doorstep, canals cutting through and old Japanese bridges traversing them really is special too.
TOP TIP: One of my all time favourite days out ever was in Hoi An. We took a guided tour through the rural countryside on the back of a Vespa! From visiting the local paddy farmers with their conical hats, seeing water buffalo up to their noses cooling down in the mud and meeting some of the most interesting people at their local jobs, it was the most quintessential Vietnamese experience I could have ever hoped for! Even if the back of the Vespa isnt for you, just ask one of us how else we can get you out to do something similar that day. Ask us about our Hoi An's Countryside by Vintage Vespa tour.
JAN
FEB
MAR
APR
MAY
JUN
C
R
C
R
C
R
C
R
C
R
C
R
Hoi An
25
9
26
3
28
3
30
3
32
6
33
10
JUL
AUG
SEP
OCT
NOV
DEC
C
R
C
R
C
R
C
R
C
R
C
R
Hoi An
33
9
33
10
31
30
29
53
27
36
26
21
C- Average daily maximum temperatures: R - Monthly rainfall in cm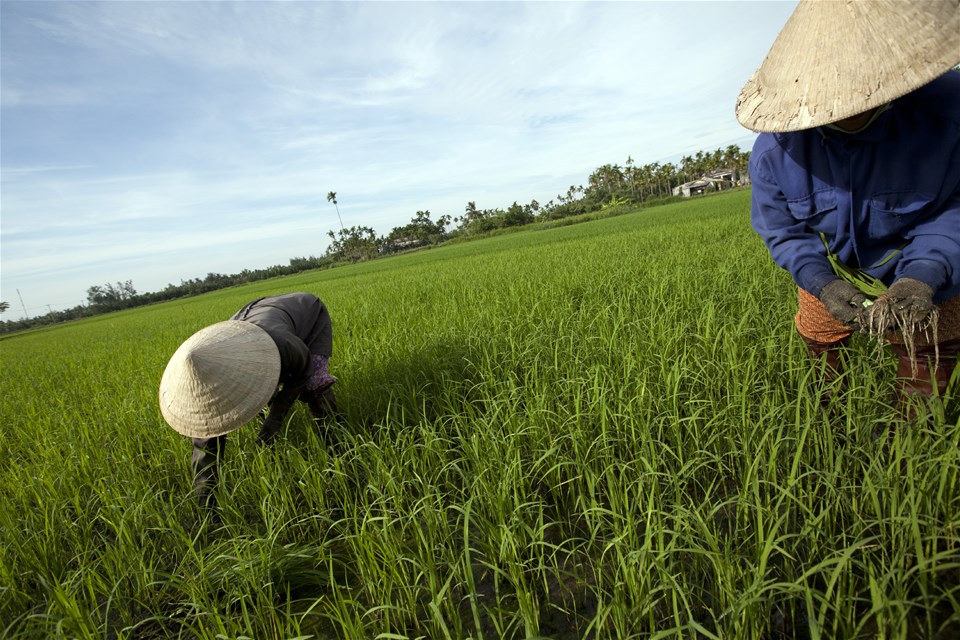 ---
Southern Vietnam
So onto our third chunk of Vientam's complex weather and seasonal patterns; the south. Home to the ever growing capitalist heartbeat of the country, Ho Chi Minh City (formally Saigon) and the near by Cu Chi district, infamous for the events of the Vietnam War. The drier months for the south are January through to April but that shouldn't influence you too greatly for the city in my opinion. During my stay the heavens opened in Ho Chi Minh City and if anything it added to the experience. Watching a sea of mopeds part waves on the roads whilst everyone got their waterproofs on will stick with me forever.The rain also contributed to the eerie atmosphere whilst wandering around the replica prison camps in the American War Museum.
Experiencing the mighty Mekong Delta is a highlight of not just southern Vietnam but for the whole of Indochina. A night or two spent on a traditional Bassac boat is a really nice way to experience the local life along the banks of the Mekong, with options to continue to cruise up into Cambodia. Water levels are key for this experience. Although the cruises operate year round, the higher or lower water levels will change the activities and routing. Low water levels are from January to mid September and high water levels from mid September to December. Higher water levels will allow a visit to floating communities on Tonle Sap, Asia's largest freshwater lake and one of Cambodia's most popular attractions. Do bear in mind that these water levels can change pretty quickly so be prepared for these cruises to juggle itineraries around accordingly.
Phu Quoc and Con Dao are two idyllic islands just off the mainland. Vietnam is always a busy trip, so why not take a few days relaxing at the end before the long flight home? The climate in this region is certainly best from November to May and can be very during our summer.
TOP TIP: If you're in the area and still looking to relax at the end, perhaps consider Bali or Koh Samui, much drier for some Asian rest and relaxation from May to October.
JAN
FEB
MAR
APR
MAY
JUN
C
R
C
R
C
R
C
R
C
R
C
R
Ho Chi Minh City
31
2
32
1
33
2
35
6
33
18
32
26
JUL
AUG
SEP
OCT
NOV
DEC
C
R
C
R
C
R
C
R
C
R
C
R
Ho Chi Minh City
31
26
31
25
31
27
31
26
31
16
31
7
C- Average daily maximum temperatures: R - Monthly rainfall in cm
---
For inspiration on where to go, what to see and what to do in this intriguing country, take a look at our Vietnam holidays pages.