Nashville - Your Ultimate Soundtrack to America's Music City
In 1950, a local radio DJ referred to Nashville as Music City USA, a moniker that the city still embraces wholeheartedly today.

Country music in particular is in the heart and soul of the city, and visitors can enjoy great live music any day, any time, in honky tonks downtown and beyond. Shop for cowboy boots while listening to the latest country hits played on the radio, see some big name country stars take the stage for the weekly Opry show, or enjoy an intimate performance with up and coming artists at one of the city's listening rooms.

Below are my top picks for a music lover's visit to Nashville along with some iconic songs that help tell the story. Whether you are planning your next trip or just want to travel via your stereo, these songs showcase the diversity of the city's music history that helped Nashville become the music capital that it is today.
---
🎸 LOWER BROADWAY 🎸
Broadway runs right across the city, but it is the 4 blocks between 2nd and 5th Avenue that are considered the heart of Nashville's entertainment district. And like most cities the main street has a wealth of bars, restaurants and shops. But this isn't like any other city – it's Nashville - so the shops are selling cowboy boots and moonshine, the restaurants are mainly bbq joints and the bars are honky tonks!
A 'honky tonk' is defined as a bar playing live country music and that's what you'll find all the way down Broadway. Some, like Tootsies Orchid Lounge and The Stage, have been around for decades and are well established, with worn wooden bars and pictures on the wall of famous musicians that have graced the stage. Newer honky tonks arriving on the scene in recent years are more contemporary with stylish decor, craft beer on tap and gourmet dining – one even has a rooftop sushi bar!
The element that these venues all have in common is the presence of live music. Not just reserved for Saturday nights, almost every honky tonk along Broadway will always have at least one live band playing on any day of the week, if not multiple bands across different floors.
So whether you like your country music served traditionally with a side of banjo twanging, chilled out with an acoustic guitar and some harmonic melodies, or fresh and modern with rocking electric guitars, you'll always find a honky tonk on Broadway to suit your mood…just make sure you tip the band!
♫ Listen to: "Red Headed Stranger" by Willie Nelson, discovered while performing this song at Tooties Orchid Lounge
♫ Listen to: "Band in the Window" by Pam Tillis, written about Broadway with the video filmed at The Stage
♫ Listen to: "5 O'Clock Somewhere" by Alan Jackson, the first country star to open his own traditional style honky tonk along Broadway
♫ Listen to: "What Makes You Country" by Luke Bryan, the newest country star to open a more stylish honky tonk on Broadway (Luke's 32 Bridge)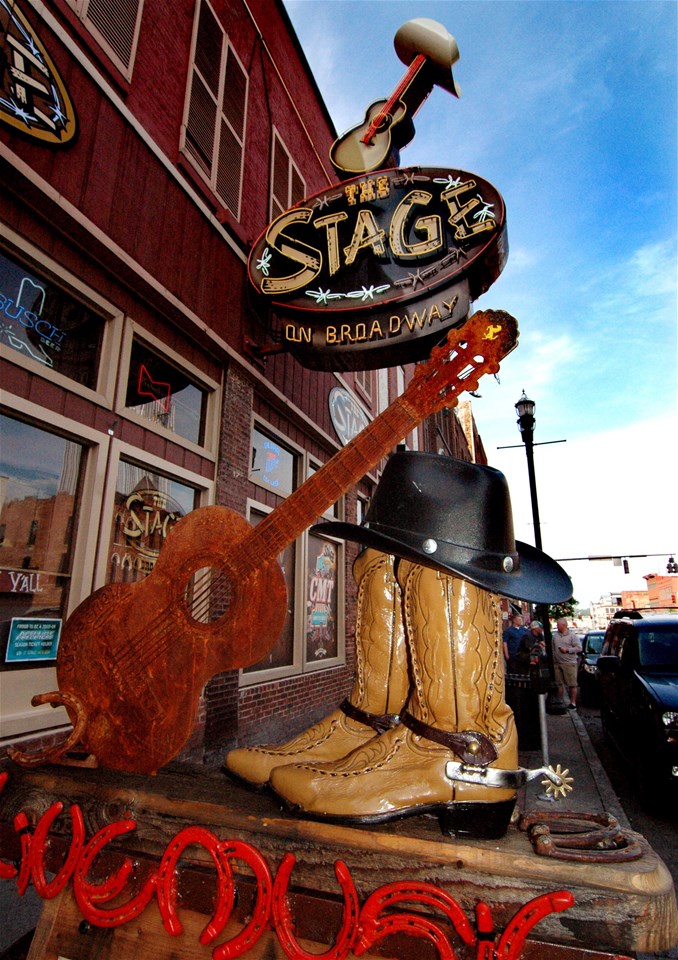 ---
🎸 GRAND OLE OPRY 🎸
After local radio station WSM 650 expanded into a national broadcaster in 1932, it irrevocably bound the city of Nashville and country music together like never before.
The station's flagship show, The Grand Ole Opry, is performed as a stage show to a live audience every week but recorded and broadcast as a radio show, making for a unique and slightly quirky experience for visitors. 'The Show that Made Country Music Famous' as it is known, is hosted by a presenter who introduces each performer, reads out advertisements for their sponsors and offers birthday and anniversary felicitations to audience members or listeners at home all across the USA. It has been aired in the same format since 1939 and has become the longest running radio show of all time.
With so many historic performances by music legends on stage over the years, it is an honour for artists to be invited to join the Opry family and to perform on stage, standing in the wooden circle cut from the very first Opry stage in 1943.
Aside from the weekly Grand Ole Opry shows, WSM 650 still broadcasts country radio live from just inside the lobby of the Gaylord Opryland Resort nearby so whilst enjoying a leisurely stroll through the tropical gardens of the resort perhaps take look inside the working radio station.
♫ Listen to: "You Gotta be my Baby" by George Jones was covered by a 13 year old Dolly Parton for her very first Opry performance. She was introduced onto the stage by Johnny Cash
♫ Listen to: "I Fall to Pieces" by Patsy Cline, her biggest record that got her inducted into the Opry
♫ Listen to: "I Will Always Love You" by Dolly Parton, written about her long-time singing partner Porter Wagoner when starting her solo career. Dolly celebrates her 50th Opry Anniversary this year
♫ Listen to: "Miss me More" by Kelsea Ballerini, the youngest member to join the Grand Ole Opry, aged 27
♫ Listen to: "Beer Never Broke My Heart" by Luke Combs, the 211th and latest artist invited to join the Grand Ole Opry family
---
🎸 THE BLUEBIRD CAFÉ 🎸
Half an hour's drive (yet a whole other world away) from the clamour of honky tonks on Broadway sits an unassuming café in a strip mall nestled between a massage parlour and a hair salon. But what this little venue lacks in size and gravitas, it more than makes up for in atmosphere and history.
Obtaining one of the 90 tickets released for each performance is a feat in itself, but once ushered inside, you will understand why the Bluebird is considered "part church, part living room". As everyone takes their seats around little tables or in the wooden pews in the corner, a rapt silence descends as the audience focusses reverently on the artists performing in their midst.
'Songwriters in the Round' is the most common show at the Bluebird, with four artists sat in the centre of the room and taking it in turns to each perform an acoustic song they have written while the other three artists listen attentively, spontaneously sing along in harmony or perhaps jam along on their own guitar. Some of their songs you may know - perhaps recorded by someone else and taken to the top of the charts - others may be a new original song the artist wrote just the other day and wanted to try out for the first time. Many a star has been discovered this way while Sunday Writer's Nights have included some truly iconic artists early on in their careers.
The Bluebird Café became globally recognised when it appeared regularly in the hit TV show 'Nashville' from 2012 but it has maintained the same authenticity and intimacy which made it such a favourite venue for songwriters to attend.
♫ Listen to: "Tim McGraw" by Taylor Swift, her first single after being discovered at the Bluebird Café in 2004
♫ Listen to: "Friends in Low Places" by Garth Brooks – discovered at the Bluebird Café and became one of the world's bestselling artists of all time, with over 170 million record sales.
♫ Listen to: "The Gambler" by Kenny Rogers – written by Don Schlitz who performed at the first Writer's Night at the Bluebird
♫ Listen to: "If I Didn't Know Better" by Clare Bowen and Sam Palladio, who play waiters-turned-performers at the Bluebird in Nashville the TV Show.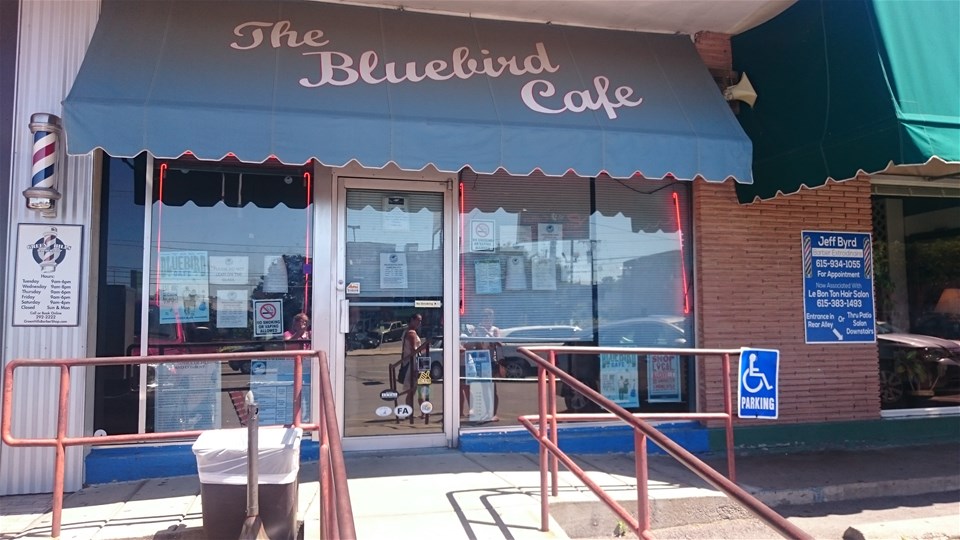 ---
🎸 RYMAN AUDITORIUM 🎸
Though originally built as a house of worship (and consequently referred to as the Mother Church of Country Music), the Ryman Auditorium soon became a music venue due to its exceptional acoustics.
It served as the first official home of the Grand Ole Opry from 1943-1974, when many of country's more traditional artists were inducted into the Opry family, including Dolly Parton, Tammy Wynette and Loretta Lynn. Visitors touring the Ryman can see many of the costumes and instruments from those early Opry shows. It was also during this time that Bill Monroe took to the stage accompanied by banjos and fiddles and performed the first Bluegrass song.
The Ryman still hosts regular music events, including those from other genres such as the Foo Fighters, Coldplay and even Wu-Tang Clan. To sit in the audience and feel the notes reverberate through those old wooden pews is a reverential experience for music lovers and a must do if anyone is playing whilst you're in town.
♫ Listen to: "Lovesick Blues" by Hank Williams, a No.1 record for 4 months, earning him six encores at his first Opry performance at the Ryman
♫ Listen to: "Blue Moon of Kentucky" by Bill Monroe, his biggest bluegrass hit establishing him as 'The Father of Bluegrass'
♫ Listen to: "Sunday Morning Coming Down" by Johnny Cash, performed during taping of The Johnny Cash (TV) Show at the Ryman which when released became a No.1 hit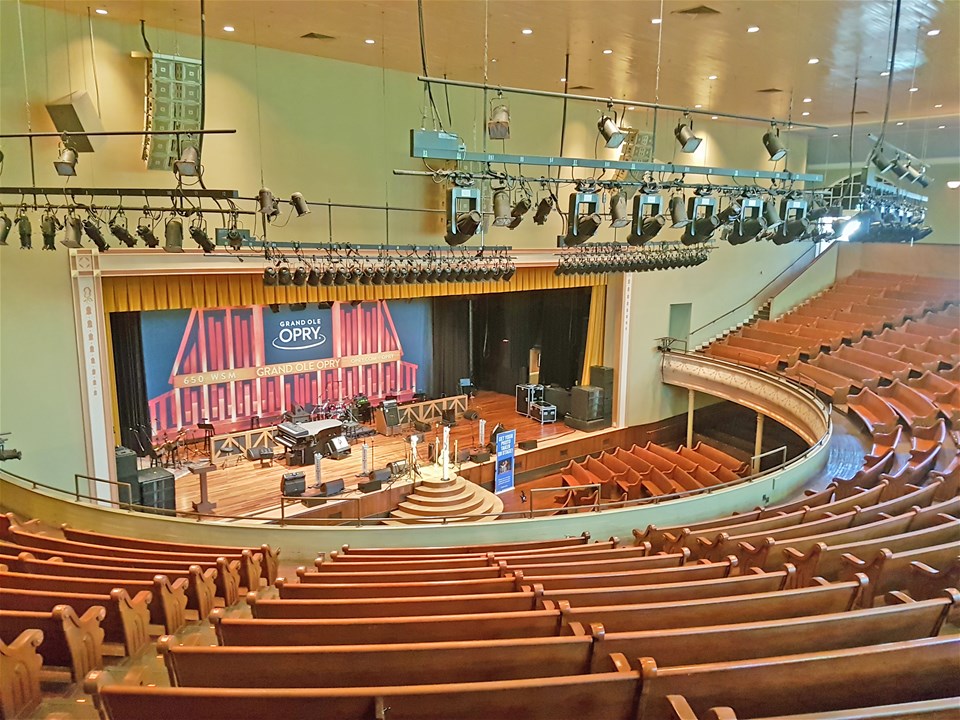 ---
🎸 MUSIC ROW 🎸
Nashville's Music Row is a strange destination for tourists as it is difficult to know when you have found it!
Located 15 minutes south-west of Broadway on 16th and 17th Avenue South, much this small historic neighbourhood of 19th Century homes has been discretely converted into intimate recording studios or lounges where songwriters can meet and collaborate to create the next big hit. The area is filled with production houses, licensing firms and management buildings that make Music Row the absolute hub of the country music industry.
RCA Victor was one of the first record labels to establish here in the 1950s, later setting up the historic Studio B where hundreds of hits were recorded by stars including Elvis, Dolly Parton and Willie Nelson. It was also here that Chet Atkins fused country and rock into the country-pop genre called the Nashville Sound that was so prevalent in the 1960s. A guided tour through these historic rooms illustrates the evolution of country music and the diversity within the genre.
♫ Listen to: "Only the Lonely" by Roy Orbison – creative use of a coat rack while recording this song gave Roy Orbison his unique sound
♫ Listen to: "Heartbreak Hotel" by Elvis, the first of over 200 songs he recorded at RCA Studios
♫ Listen to: "Joshua" by Dolly Parton, her first #1 on the country charts and recorded at RCA Studios
♫ Listen to: "End of The World" by Skeeter Davis epitomised the Nashville Sound and is still the only song to date that achieved Top 10 success across all four Billboard charts. It was played at Chet Atkins funeral
♫ Listen to: "He Stopped Lovin' Her Today" by George Jones, his biggest hit and one of the earliest successful 'countrypolitan' songs, adding further pop elements to the Nashville Sound for more mass market appeal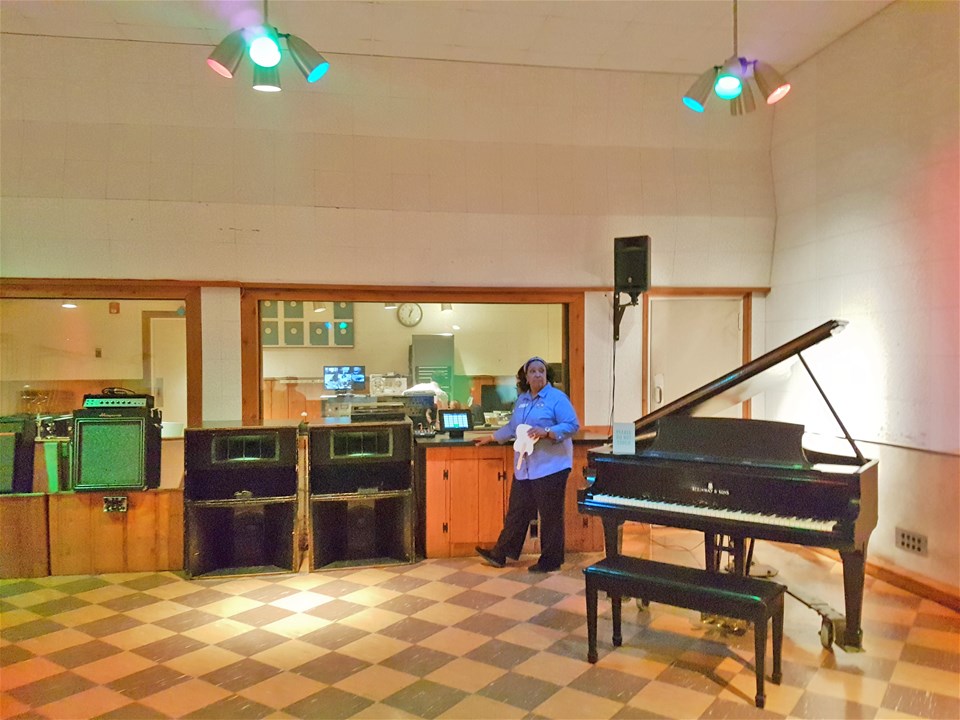 ---
🎸 ERNEST TUBB'S RECORD SHOP 🎸
And finally, after you have spent an incredible time in Nashville discovering lots of new (and old!) country artists, you'll want to know where to buy their records.
Established in 1947 by the 'Texas Troubadour', Ernest Tubbs Record Shop was the first specialist country music store in America, and it still offers a vast array of cds, dvds, books, vinyl and more today.
It is also the original home to Ernest Tubb's Midnite Jamboree, another long-running radio show featuring country music performances broadcast from Nashville after the Grand Ole Opry every Saturday night, now recorded each week from the Texas Troubador Theatre across town.
♫ Listen to: "Walking the Floor Over You" by Ernest Tubb, gave rise to the honky tonk style of music and was his biggest hit
♫ Listen to: "Coal Miner's Daughter" by Loretta Lynn. Scenes from Loretta's biopic of the same name were filmed at Ernest Tubbs
♫ Listen to: "Blue Yodel (T for Texas)" by Jimmie Rogers. Every broadcast of the Midnite Jamboree traditionally starts with a Jimmie Rogers song as he was idolized by Ernest Tubb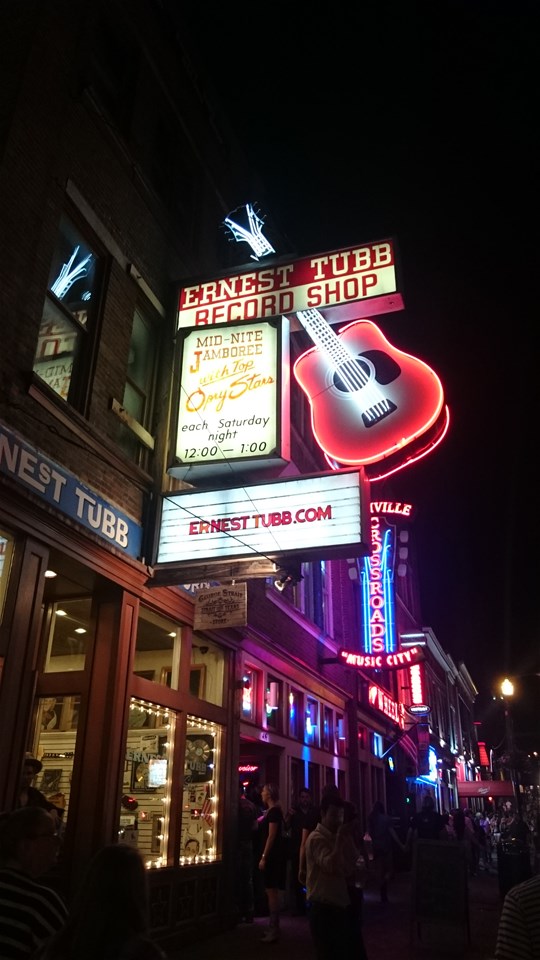 ---
🎸 WANT TO DISCOVER MORE? 🎸
Hopefully listening to these iconic songs has whet your musical appetite, inspiring you to visit Music City yourself either as a tailor-made fly-drive holiday or an escorted group tour. And with direct flights from London Heathrow by British Airways it has now never been easier!
Whilst there, the Nashville Music Attraction Pass includes admission to two of the city's best museums – Country Music Hall of Fame and the Johnny Cash Museum – as well as guided tours of the Ryman Auditorium and RCA Historic Studio B, where you can even sit at Elvis's piano!
If in town on Friday or Saturday night (and occasional Tuesdays) we can pre-arrange tickets to a performance at the legendary Grand Ole Opry so you too can experience a recording of the longest running radio show.
And if you love your music history, why not combine your stay in Nashville with a few nights in Memphis, just a few hours' drive away? Memphis is home to world-famous blue bars, the legendary Sun Studios where rock'n'roll was born, Stax Museum of American Soul and of course Elvis's beautiful mansion Graceland.