The Best Time to Visit the Galapagos Islands - Weather and Wildlife guide
The Galápagos Islands are rightly considered a year round destination. Amazing wildlife interactions are possible every month as most species are non-migratory (the main exception being the waved albatross on Española Island which leaves between January and March). In general, the climate can be divided into two seasons: the warmer but wetter season from January to June and the cooler and drier season from July to December. However due to the location on the equator, even in the wetter season the weather is typically hot and sunny with sporadic heavy rain showers. Here we explain what you can expect throughout the year.
---
JANUARY TO MARCH
The rainy season begins in January with rainfall and humidity reaching its peak in March. Days are generally sunny interspersed with tropical showers which are normally short but can be heavy. Sea and air temperatures are high which means this is an ideal time for snorkelling throughout the archipelago. Even in the western islands where sea temperatures are generally cooler, snorkelling is pleasant and off the coast of Isabela you may even find penguins swimming alongside tropical fish – a unique experience!
Galapagos Weather April - May
January
February
March
°C
R
°C
R
°C
R
28
18
30
15
30
17
°C - Average daily maximum temperature R - Monthly rainfall in cm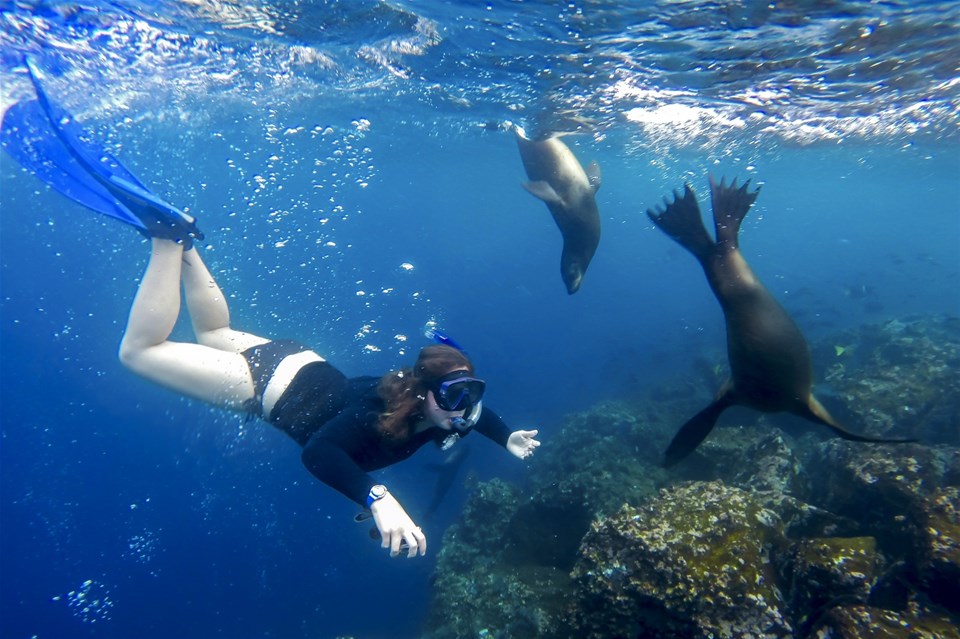 ---
APRIL TO MAY
These months signal the end of the rainy season so the islands are lush and green and there is excellent visibility in the water for snorkellers. From late March the waved albatross arrive in Española Island and in April this is the only place in the world where it is possible to see their courtship ritual. Green sea turtle and land iguana's eggs start to hatch and on North Seymour it is possible to see the blue-footed boobies' courtship dance.
Galapagos Weather April - May
April
May
°C
R
°C
R
30
16
28
8
°C - Average daily maximum temperature R - Monthly rainfall in cm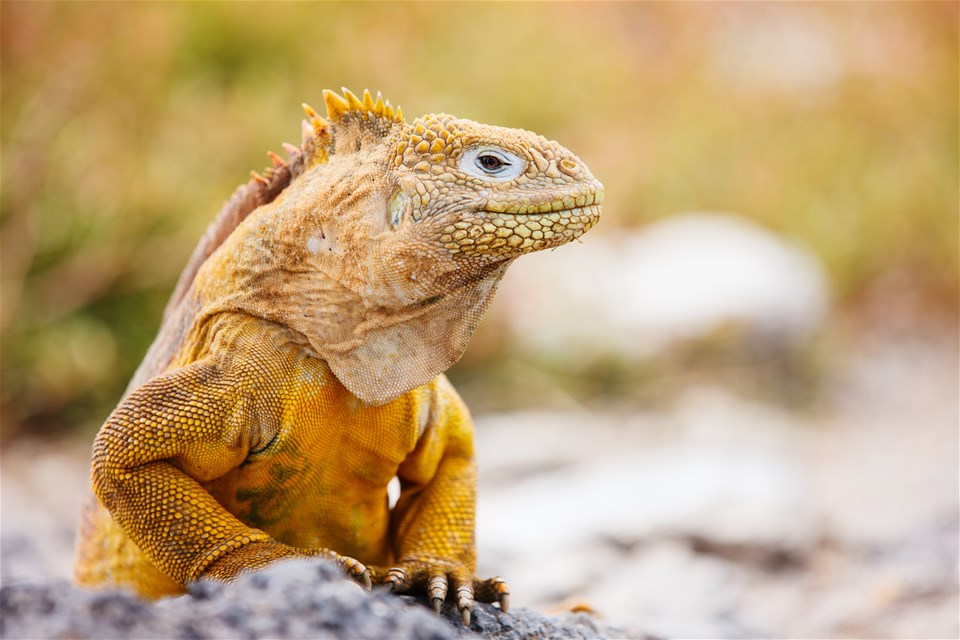 ---
JUNE TO JULY
Sea and air temperatures start to drop and ocean currents become stronger. This is the beginning of the garúa season when early mornings may be a little misty though this will generally burn off in the heat of the day. Thanks to the cooling temperatures, dolphins and whales are more likely to be seen off the coast of Isabela and sea bird communities become very active. On Santa Cruz Island, giant tortoises start to migrate from the highlands in search of suitable nesting places.
Galapagos Weather June - July
June
July
°C
R
°C
R
27
11
25
11
°C - Average daily maximum temperature R - Monthly rainfall in cm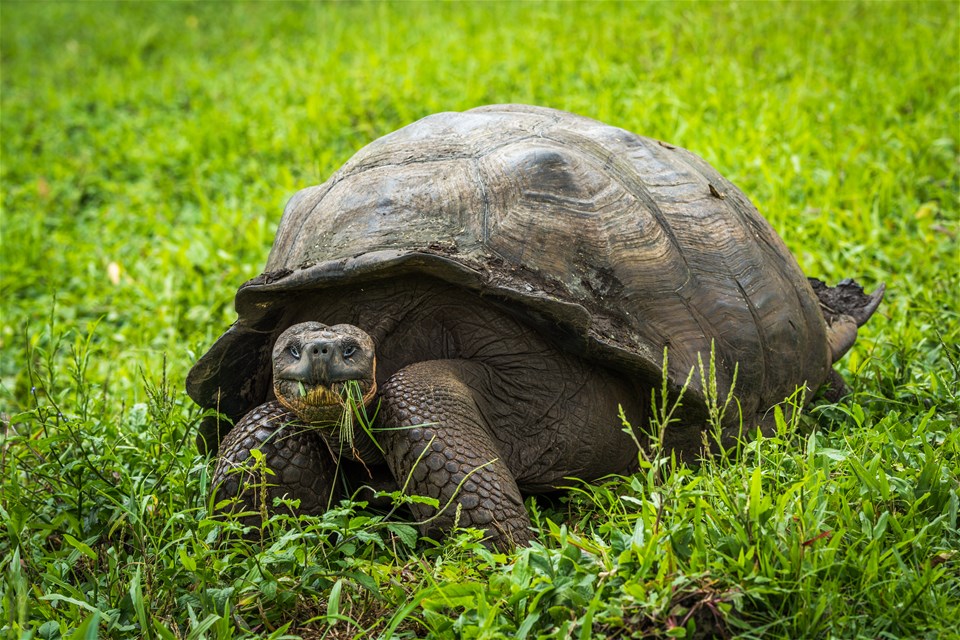 ---
AUGUST TO OCTOBER
This is pupping season for the sea lion population, especially in the western and central islands. Nazca boobies and swallow-tailed gulls nest and Galápagos hawks begin their courtship rituals. Sea conditions are choppy with currents at their strongest levels in August and September and temperatures are at their lowest. Penguins are very active on Bartolomé, diving torpedo-like under water. In October chicks of blue-footed boobies can be seen on Española and Isabela Islands.
Galapagos Weather August - October
August
September
October
°C
R
°C
R
°C
R
24
8
24
9
24
7
°C - Average daily maximum temperature R - Monthly rainfall in cm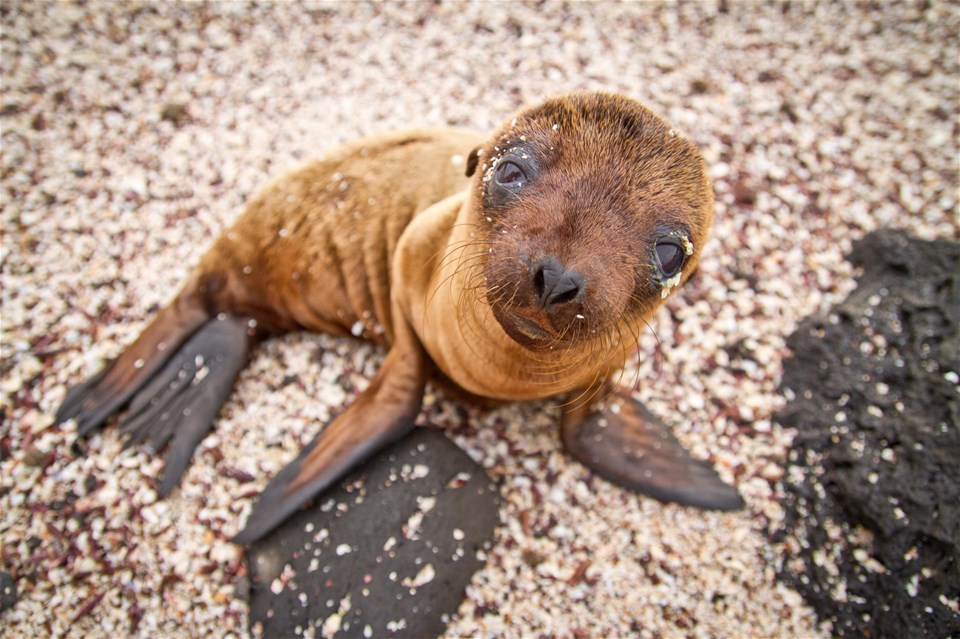 ---
NOVEMBER TO DECEMBER
Temperatures begin to rise and the calmer seas mean underwater visibility for snorkellers is good. Inquisitive sea lion pups play in the ocean (especially at Champion Islet on Floreana Island) and may be curious enough to nibble at the fins of snorkellers. Green sea turtles display their mating behaviour and giant tortoise eggs begin to hatch between December and April.
Galapagos Weather November - December
November
December
°C
R
°C
R
25
7
26
3
°C - Average daily maximum temperature R - Monthly rainfall in cm
---
For more inspiration on what to see and how to see it, tak a look at our Galapagos holidays pages