When is the best time to visit New Zealand
It may be known as the Land of the Long White cloud but there is plenty of beautiful weather to enjoy in New Zealand.
When considering the best time to go, the first thing to remember of course is that, as a southern hemisphere country, the seasons are reversed to ours. So when it's winter here it's summer in New Zealand and vice-versa. Which makes escaping the winter gloom here all the more attractive.
The next thing to remember is that. like us, New Zealand has a maritime climate, so its not unusual to experience four seasons in one day!
Here's our rundown of the weather in New Zealand season by season to help you chose when to go.
---
Spring
September - November
Spring is a wonderful time to be in New Zealand with warm sunny days, uncrowded trails and the countryside bursting into life. Colourful wildflowers carpet the countryside and baby wildlife can be seen everywhere from gambolling lambs to playful seal pups. Hotel prices are significantly lower than summer and availability also much better, both here and in campsites all over the country. With the Spring sun melting the winter snowfall and glaciers, rivers are at full flood and waterfalls are at their most spectacular so it's a wonderful time to be seeing them in Firodland for example.
Events
Hawkes Bay Food & Wine Classic, November
Toast Martinborough, November
Toast of Auckland, November
City
September
October
November
°C
R
°C
R
°C
R
Auckland
16
10
18
9
20
9
Christchurch
14
4
17
5
19
5
°C Average daily maximum temperature R Monthly rainfall in cm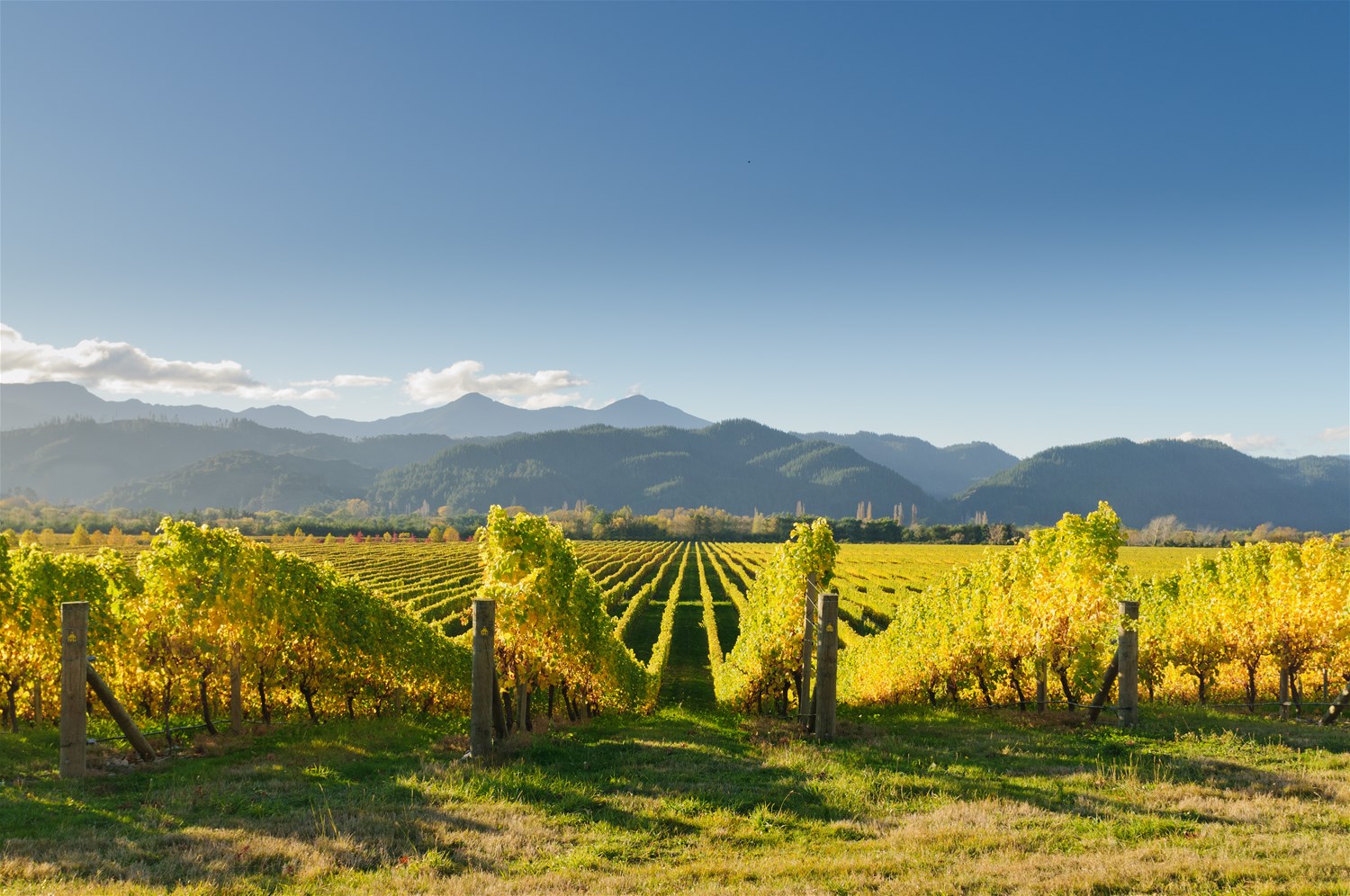 ---
Summer
December to February
During the southern hemisphere summer, people the world over flock to see New Zealand under a blanket of blue sky and escaping the winter at home is an enticing prospect.
Average day time highs are a comfortable 21°C to 24°C so this is a great time to hit the beach with a picnic. Now is also the time to make the most of the huge range of incredible outdoor activities that the country is famous for, whether it be hiking or cycling, sailing or kayaking.
Events
Marlborough Wine & Food Festival, February
Napier Art Deco Weekend, February
City
December
January
February
°C
R
°C
R
°C
R
Auckland
22
9
23
8
24
8
Christchurch
21
5
22
5
22
4
°C Average daily maximum temperature R Monthly rainfall in cm
---
Autumn
March - May
Autumn is, in many people's opinion, the best time to go New Zealand. With many long, sunny days left to enjoy, fewer people to contend with at prime scenic spots, better hotel and campsite availability and, perhaps best of all, lower prices than the high season, it can be the perfect time to visit.
New Zealand's warm, still autumnal days are perfectly suited to outdoor exploration. And the scenery comes alive in the autumn light with deeply shadowed mountains and ochre fields perfect for photography. Aside from the Central Otago region on the South island, you won't see a blaze of autumnal fall foliage in the forests, but the abundant vineyards do look beautiful.
Events
Hokitika Wildfoods Festival, March
Bluff Oyster Festival, May
City
March
April
May
°C
R
°C
R
°C
R
Auckland
22
9
20
10
17
11
Christchurch
20
5
17
6
14
6
°C Average daily maximum temperature R Monthly rainfall in cm
---
Winter
June - August
Temperatures drop in the winter months but not to the same extent we see at home, especially in the North Island with average daytime highs of 14°C or 15°C in Auckland, compared to winter temps of 7°C and 8°C in London for example.
New Zealand's southern mountains receive a blanket of snow and the snowfields around Queenstown and Wanaka are awash with happy skiers and snow-boarders.
Events
Queenstown Winter Festival, June
Wellington on a Plate, August
City
June
July
August
°C
R
°C
R
°C
R
Auckland
15
13
14
13
15
12
Christchurch
11
6
11
7
12
6
°C Average daily maximum temperature R Monthly rainfall in cm
---
For inspiration on where to go, what to see and what to do in this magnifcent country visit our New Zealand Holidays pages