As you'd expect with over 22,000 miles of sun drenched coastline Australia boasts some wonderful beaches from buzzing city strands, to untouched stretches of poweder white sand and everything in between.
Some beaches are so gorgeous that you may consider travelling half way round the world for a pure Australia beach holiday but in our opinion you'd be mad to miss the rest the country has to offer.
Luckily the beauty of Trailfinders tailormade approach is that you can add a stay in any beach resort to any holiday you please. Many of our Australia fly drives and escorted tours include some time on the beach as part of your holiday but don't feel you're limited to those choices alone. Whichever Australian beach takes your fancy we can organise the transport to get you there and a great value place to stay while you relax in the sun.
Below we have highlighted some of Australia's best regions to enjoy some time on the beach. If you are looking for some more inspiration take a look at this great
blog put together by Thom Kernott in our Cambridge Travel Centre.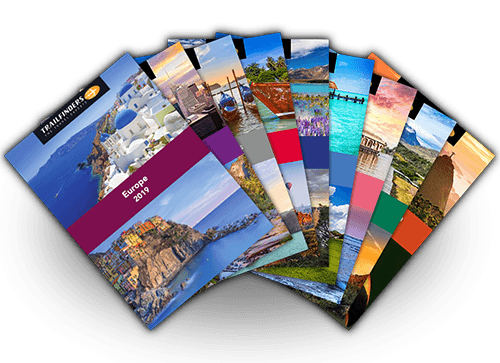 Order your brochure
WHERE TO GO FOR BEACH HOLIDAYS IN AUSTRALIA
The Legendary Pacific Coast - New South Wales
Discover the rolling vineyards of the Hunter Valley and golden beaches of the Legendary Pacific Coast on this sun kissed stretch of New South Wales.
Brisbane & the Gold Coast - Queensland
Discover cosmopolitan Brisbane and explore the Gold Coast's fabulous beaches and World Heritage Rainforest at Lamington National Park. Stay in lively Surfers Paradise, or for a quieter alternative, choose upmarket Broadwater or laidback Coolangatta.
The Whitsundays & Islands of the Great Barrier Reef - Queensland
Each of the Great Barrier Reef and Whitsundays islands are idyllic in their own way, offering a range of experiences from back to nature to sheer indulgence. All offer excellent snorkelling and diving opportunities on the unforgettable Great Barrier Reef.
Fraser Island and the Sunshine Coast - Queensland
Fraser Island is the world's largest sand island – with mighty dunes, pristine lakes, ancient rainforests and the 75 mile Beach highway, it's a natural paradise waiting to be explored. The cosmopolitan seaside town of Noosa with its great restaurants and cafés, also offers beautiful beaches, freshwater rivers and lakes.
Tropical North Queensland
Tropical North Queensland is a beautiful part of Australia that is home to the Great Barrier Reef, the Daintree Rainforest and some wonderful beaches too.
Great Ocean Road & Beyond - Victoria
See the iconic Great Ocean Road, famous for its spectacular coastline and the rugged splendour of the Twelve Apostles, explore the Mornington Peninsula with its boutique vineyards and natural hot springs and Phillip Island where you can witness the extraordinary penguin parade.
The Coral Coast - Western Australia
The Coral Coast, in northern WA, is home to a dazzling array of natural treasures. Explore the eerie Pinnacles Desert in Nambung National Park, visit quaint towns and spectacular gorges along the coast. Discover the fantastic beaches and snorkelling in Exmouth, where Ningaloo Reef Marine Park is home to over 500 species of fish, manta rays and dolphins.
Perth, the Margaret River & the South Coast - Western Australia
From the the sun-splashed capital of Perth, south through the vineyards of the Margaret River region to the rugged beauty of Albany and gleaming white sands of Esperance, southern WA boasts some incredible beaches.
Freycinet National Park - Tasmania
Perhaps Australia's best secret, Tasmania's natural beauty is simply spectacular, with dramatic coastlines, lofty mountains and one of the planets last great wildernesses. Wineglass Bay, in Freycinet National Park is often voted one of the best beaches in the world.
OUR RECOMMENDED BEACH HOLIDAYS IN AUSTRALIA
OUR RECOMMENDED BEACH HOTELS IN AUSTRALIA
YOUR TRAVEL PLANS ALWAYS TO HAND, ANYWHERE, ANYTIME - YOUR ESSENTIAL TRAVEL COMPANION
Our free Viewtrail App stores your essential travel information in one secure place, ensuring we are with you from start to finish.
View your travel plans on or offline, wherever and whenever you wish
Live flight notifications - real time information as you travel
Online check-in links and pre-tour notifications
Luggage allowance
Mapped places of interest - restaurants, shops, stations...plus route guidance back to your hotel
View e-vouchers and export them to your Apple wallet
Secure access to booking history, profile and insurance contact information
One touch emergency contact 365/24/7
Add to calendar function
Countdown to travel
Local time, weather, translator and exchange rate calculator
Sign up for our Email and be the first to hear about our Red Hot Offers and Travel Inspiration.
Our full range of 2020 brochures and the latest edition of the Trailfinder magazine are out now - get ahead of the rest and start planning your next escape.
If you can provide a few more details we can look at the best available options before we call you.