Holidays to Sri Lanka offer a stunning blend of history, culture and wildlife with a spectacular landscape of palm-fringed beaches, lush verdant jungle and tranquil hill stations.
Friendly people, mouth-watering food and an abundance of arts, from graceful Kandyan dancing to fire walking, awaits you while, if you can tear yourself away from the beach, the ancient cities of Anuradhapura and Polonnaruwa, along with the spectacular rock fortress of Sigiriya, beg exploration.
Further inland, the plains give way to soaring mountain peaks carpeted with rows of tea plantations and a cool, refreshing climate. Sri Lanka's verdant national parks are also a haven for wildlife, from 431 species of bird to majestic elephants and even leopard.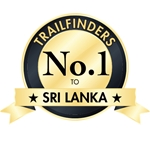 Trailfinders is the UK & Ireland's No.1 to Sri Lanka and we have a dedicated team of destination specialists who are mines of information about the country, often with first-hand experience of travel here. Whether you want to explore the country with your own private driver or on a sociable small group tour, or are simply looking for advice on the best place to stay for a relaxing beach break – they are the perfect people to ask.

Order your brochure
OUR HOLIDAYS TO SRI LANKA
WHERE TO GO IN SRI LANKA
For a relatively small country Sri Lanka boasts an incredible diversity of sights and experiences. In just one week you could discover the historic delights of the Cultural Triangle, get up close and personal with elephants, reptiles and birdlife in Minneriya National Park, mix with pilgrims in spiritual Kandy and still have time to sample the fresh air and lush scenery of Tea Country. With two weeks to spare, the delights of Jaffna, the east coast and more remote national parks really open up – or you could just flop on one of the glorious beaches here or in the Maldives.
Take a look at the guide below to discover further or give us a call if you are looking for some inspiration.


Cultural Triangle
Commonly referred to as the 'Cultural Triangle', the central plains area boasts no less than four UNESCO World Heritage Sites: the striking rock fortress of Sigiriya, Dambulla's incredible cave temples and the crumbling ancient capitals of Polonnaruwa and Anuradhapura. With the added bonus of viewing elephants at wonderful Minneriya National Park, a stay in this region is sure to be a highlight of any trip to Sri Lanka.

Kandy
Sri Lanka's second largest city, Kandy, enjoys a scenic setting around a lake surrounded by green hills, and is home to the Temple of the Sacred Tooth Relic, said to house Buddha's tooth. Each August the city hosts the spectacular Kandy Esala Perahera festival featuring dancers, fire-breathers and lavishly decorated elephants. Charming boutique hotels nestle in the surrounding hills and the renowned Peradeniya Botanic Gardens are also nearby.

Tea Country
The beautiful central highlands offer misty jungle-clad mountains and mile upon mile of rolling tea plantations, dotted with 19th Century planters' bungalows and tumbling waterfalls. Enjoy the cool climate and British colonial history of Nuwara Eliya, head out on a hike to the World's End escarpment at Horton Plains National Park or soak up the laidback atmosphere and breathtaking views in Ella.

Yala National Park
One of the largest and most popular national parks in the country, Yala has a varied terrain of dry woodland, lagoons and grassy plains, which supports an abundance of wildlife. It is home to a large number of elephants, spotted deer, sambar deer, sloth bears, wild buffalo, jackals and crocodiles. The park also boasts one of the highest densities of leopards in the world, but they are famously shy creatures so any sighting is sure to be a memorable experience.

Udawalawe National Park
Renowned as one of the best places in Sri Lanka to see elephants, most visitors to Udawalawe will be graced with numerous sightings of herds of these gentle giants as they roam the grassland and scrub landscapes. The park also hosts other species such as water buffalo, sambar deer and monkeys and is a wonderful place to enjoy bird watching. Adjacent to the park is the Elephant Transit Home, a small facility which cares for orphan elephants until they are ready to be released into the wild.

Colombo
Sri Lanka's sprawling capital is developing rapidly with an increasing number of new hotels, smart boutiques and cosmopolitan restaurants. This is a city of contrasts where serene Buddhist temples and colonial churches nestle amid ramshackle streets and shiny office blocks. The bustling markets and stylish stores offer interesting shopping opportunities, there's a number of historic sights to discover and no visit is complete without a stroll along Galle Face Green on the city's waterfront.

Galle Fort
Set on a promontory on the southwest tip of the island, Galle offers the best preserved example in Asia of a European built fortified city. Constructed by the Dutch in the 17th Century, it was the country's main port for over 200 years and is today a UNESCO World Heritage Site. The enchanting small streets are a delight to explore, with dozens of restaurants, cafés and quirky shops nestled amid decaying colonial buildings and grand fort walls. Soak up the atmosphere with a stay in one of the fort's boutique hotels.
Sri Lanka Beach Holidays
Sri Lanka's beaches extend for almost a thousand miles around its coastline, offering glorious golden sands dotted with popular resorts and Sri Lanka's beach resorts make a relaxing addition to a tour of the country or indeed a great holiday in their own right.

Jaffna
Settled long ago by Tamil migrants from Southern India, today the city of Jaffna, and the peninsula of the same name, retains a unique character and culture making it a fascinating place to visit. This small historic city offers an intriguing mix of colourful Hindu temples and colonial charm. Out of bounds to foreign tourists until 2010, Jaffna is once again welcoming visitors but for now is still very much off the beaten track with limited tourist infrastructure and many reminders of the decades of civil war.
HOW TO GET AROUND SRI LANKA
Exploring Sri Lanka with your own private car and driver is extremely popular in Sri Lanka. You can simply follow one of our classic itineraries or our specialist Sri Lanka team can put something tailormade together for you.
Small group touring is also a great value option and very sociable too. A great choice if you are travelling alone. If this sounds appealing and you also want to stretch your legs a little – why not talk to us about our cycling holidays in Sri Lanka?
Lastly don't forget Sri Lanka's neighbours. It's simple and straightforward to combine a holiday to Sri Lanka with one in the Maldives, India or Dubai on a multi centre holiday or even Asia with a cruise.
OUR RECOMMENDED HOTELS IN SRI LANKA
We feature a wonderful range of accommodation in Sri Lanka, with something to suit all budgets.
Maybe you're looking for a family friendly beach resort on the south coast or a secluded hideaway on the east coast? Or perhaps it's an eco-lodge in the heart Yala National Park, a colonial era cottage in Tea Country or a chic spa resort in the Cultural Triangle. We can help you with hotels, resorts, guesthouses and lodges all over Sri Lanka.
What you won't find here are thousands upon thousands of hotels where you have to wade through endless reviews of questionable origin to find the best one. We have done the hard work for you and selected the best places to stay so you don't have to and our travel consultants are on hand to help, often with first-hand experience.
THINGS TO DO IN SRI LANKA
As well as some wonderful sights, Sri Lanka is also home to some unforgettable experiences from immersive tours with local guides to unforgettable encounters with the wildlife.
One day you might be coming face to face with monkeys in Polonnaruwa, the next drifting over the Cultural Triangle in a hot air balloon. Getting about can be half the fun too with everything from scenic sea plane flights and train journeys to discovering Colombo by tuk tuk on offer.
Our collection of unmissable experiences will really help bring your holiday in Sri Lanka alive.
When is the best time to visit Sri Lanka?
Sri Lanka

Fast Facts

flightaccess_time
Flight Time to Sri Lanka
Approx
10½ hours
euro_symbol
Currency
Sri Lankan Rupee
public
Visa Required?
Yes
£20 Off your visa service charge if you have booked your holiday with Trailfinders.
verified_user
Recommended Immunisations
Diphtheria/Tetanus/Polio booster
Hepititis A (vaccine recommended)
Japanese Encephalitis
Rabies
Typhoid
Yellow Fever

20% Discount off immunisations at our London Travel Clinic if you have booked your holiday with Trailfinders.
business_center
Trailfinders Travel Insurance
Enjoy comprehensive cover in Sri Lanka from just £65 for 7 days with our superb value Single Trip Travel Insurance.
Visa information given is given for British citizens holding a valid UK passport with at least 6 months validity remaining. Immunisation guidelines assume routine UK childhood immunisation has been given and will not apply to all situations. Medical advice should be sought. Your Trailfinders consultant will advise you of the specific visa and immunisation requirements for your trip.
YOUR TRAVEL PLANS ALWAYS TO HAND, ANYWHERE, ANYTIME - YOUR ESSENTIAL TRAVEL COMPANION
Our free Viewtrail App stores your essential travel information in one secure place, ensuring we are with you from start to finish.
View your travel plans on or offline, wherever and whenever you wish
Live flight notifications - real time information as you travel
Online check-in links and pre-tour notifications
Luggage allowance
Mapped places of interest - restaurants, shops, stations...plus route guidance back to your hotel
View e-vouchers and export them to your Apple wallet
Secure access to booking history, profile and insurance contact information
One touch emergency contact 365/24/7
Add to calendar function
Countdown to travel
Local time, weather, translator and exchange rate calculator
Sign up for our Email and be the first to hear about our Red Hot Offers and Travel Inspiration.
Our full range of 2020 brochures and the latest edition of the Trailfinder magazine are out now - get ahead of the rest and start planning your next escape.
If you can provide a few more details we can look at the best available options before we call you.