Quebec is a delightful blend of history and modernity and is fiercely proud of its blend of French, North American and First Nation cultures. Experience Montreal's vibrant festivals and joie de vivre and soak up the historic charm of Quebec City. Outside of the cities you'll find stunning Mont Tremblant National Park and the beautiful Mauricie and Charlevoix regions. Montreal is the perfect blend of old and new. Enjoy vibrant summer festivals, the delightful architecture and history of Old Montreal and the French speaking population's style and elan! After exploring this lively city, hit the road to discover the peaceful Quebecois countryside and enjoy a relaxing, luxury lodge stay.
Quebec City offers historic charm and a distinctly European ambience. Wander the narrow streets of the old fortified city, a World Heritage site, and enjoy the stylish cafés and shops. Beyond the city walls, follow the mighty St. Lawrence River north and soak up the wonderful scenery of the Charlevoix region.

Order your brochure
WHERE TO GO IN QUEBEC
QUEBEC is a delightful blend of the old and new and fiercely proud of its French heritage. Experience Montreal's vibrant festivals and 'joie de vivre' then soak up the historic charm of Quebec City. Outside the cities you'll find stunning Mont Tremblant National Park, beautiful Saguenay Fjord and the Charlevoix Region. For something a little different, head to Maritime Quebec where the mountains meet the sea and fresh seafood is the order of the day.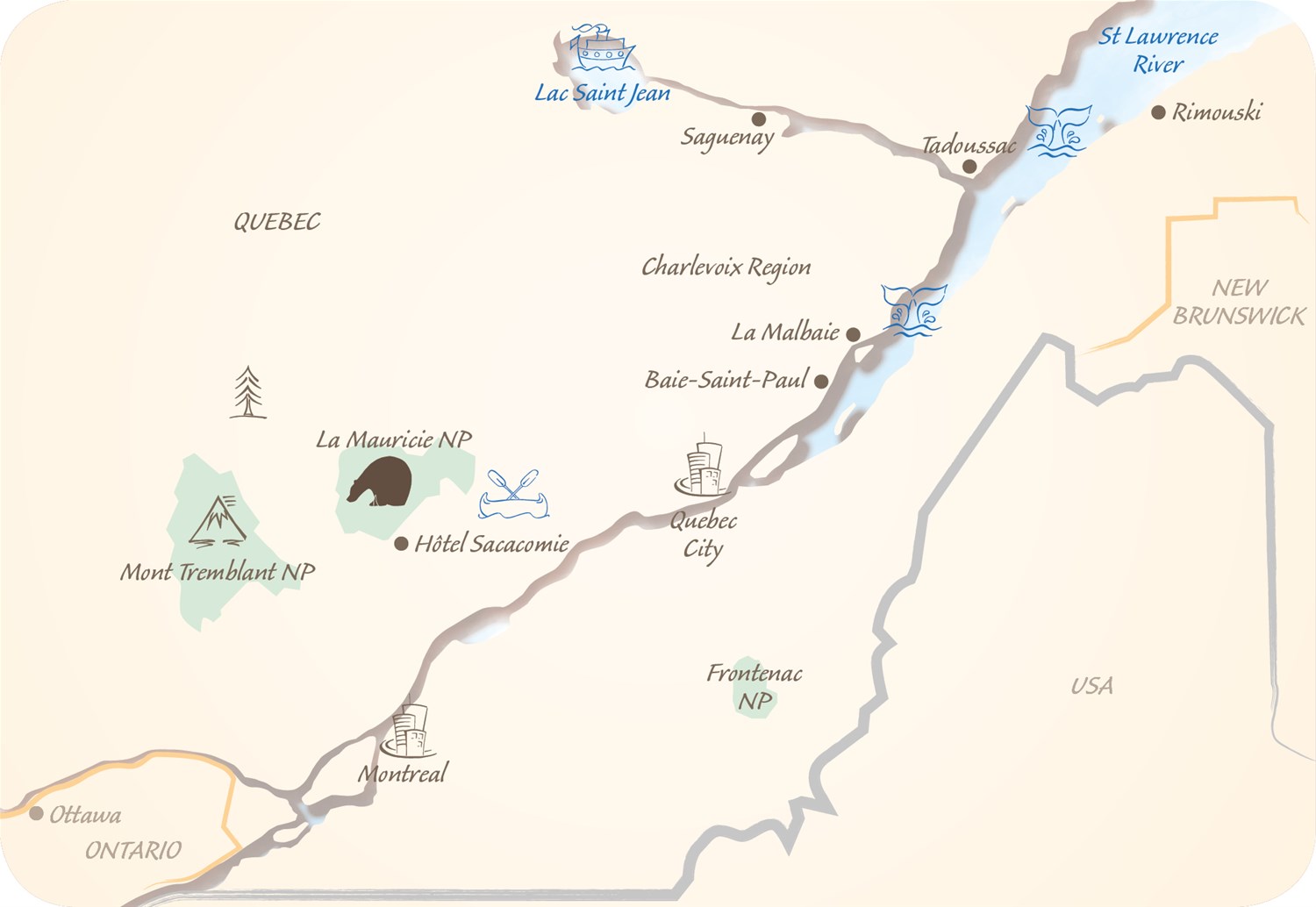 Cities
Quebec's Anglo-French cities, stylish Montreal and historic Quebec City, offer a fabulous city stay. Be charmed by Montreal's historic art, impressive graffiti murals, eclectic music scene and refined elegance. Quebec City has a more regal personality, quaint cobbled streets, grandiose architecture and temptingly sweet maple treats. A stay in either city will deliver ample servings of sophistication, exceptional dining and copious amounts of chic.

The Great Outdoors
Quebec is just made for the great outdoors. Join the locals in their zest for the province's wealth of natural beauty, whatever the season. Visit the spectacular cliffs and waterways of Saguenay Fjord or head to the colourful mountainside resort of Tremblant with summer hiking, winter skiing and year-round fun. Enjoy a more serene pace of life and farm to fork dining in the Charlevoix region, and in Maritime Quebec whale watch from Gaspe or dine on fresh, local lobster.

Unique Accommodation
Quebec's array of unique and original accommodation is perfect for those looking for a completely different slice of Canada. Step back to the 1920s at the innovative living museum and hotel, Val-Jalbert Historic Village. The wooden lodge of Hôtel Sacacomie offers bear and beaver summer excursions and exhilarating dog sledding in winter. Alternatively, the wilderness paradise of Chic-Choc Mountain Lodge in Maritime Quebec has fresh air, hiking trails and more moose than people!
OUR RECOMMENDED HOTELS IN QUEBEC
Quebec

Fast Facts

flightaccess_time
Flight Time to Quebec
Approx
hours
public
Visa Required?
£20 Off your visa service charge if you have booked your holiday with Trailfinders.
verified_user
Recommended Immunisations
None
20% Discount off immunisations at our London Travel Clinic if you have booked your holiday with Trailfinders.
business_center
Trailfinders Travel Insurance
Enjoy comprehensive cover in Quebec from just £73 for 7 days with our superb value Single Trip Travel Insurance.
Visa information given is given for British citizens holding a valid UK passport with at least 6 months validity remaining. Immunisation guidelines assume routine UK childhood immunisation has been given and will not apply to all situations. Medical advice should be sought. Your Trailfinders consultant will advise you of the specific visa and immunisation requirements for your trip.
YOUR TRAVEL PLANS ALWAYS TO HAND, ANYWHERE, ANYTIME - YOUR ESSENTIAL TRAVEL COMPANION
Our free Viewtrail App stores your essential travel information in one secure place, ensuring we are with you from start to finish.
View your travel plans on or offline, wherever and whenever you wish
Live flight notifications - real time information as you travel
Online check-in links and pre-tour notifications
Luggage allowance
Mapped places of interest - restaurants, shops, stations...plus route guidance back to your hotel
View e-vouchers and export them to your Apple wallet
Secure access to booking history, profile and insurance contact information
One touch emergency contact 365/24/7
Add to calendar function
Countdown to travel
Local time, weather, translator and exchange rate calculator
Sign up for our Email and be the first to hear about our Red Hot Offers and Travel Inspiration.
Our full range of 2020 brochures and the latest edition of the Trailfinder magazine are out now - get ahead of the rest and start planning your next escape.
If you can provide a few more details we can look at the best available options before we call you.