China Holidays
Holidays to China promise history, culture, scenic grandeur and unique wildlife spectacles that will long stay in your memory

Ancient treasures abound all over the country.
Beijing is a treasure house of historical sites with the Forbidden City and Summer Palace topping many peoples wish list and to cap it all the Great Wall of China is close by and is guaranteed to impress by its sheer scale and rugged beauty.
In Xian the Terracotta Warriors are one of the most significant archaeological finds of the last century with thousands of individually sculpted warriors, some over 2,000 years old.
The size and majesty will take your breath away and a trip to see them is a must in for every china holiday.

Nature is no shrinking wallflower in China either.
The magnificent Yangtze is the world's third longest river and a cruise on the most scenic stretch between Chongqing and Yichang is a fascinating journey through China's changing landscapes sailing past ancient imperial cities and through the spectacular Three Gorges.
Guilin, in the south, is one of China's most beautiful cities, surrounded by spectacular karst sentinels that dominate the skyline in every direction.
Yunnan, in China's lesser explored west, is a region rich in natural beauty, with magnificent mountains, ancient towns, the majestic Tiger Leaping Gorge and a fascinating and distinct culture.
And who could forget one of China's most iconic animals, the Giant Panda!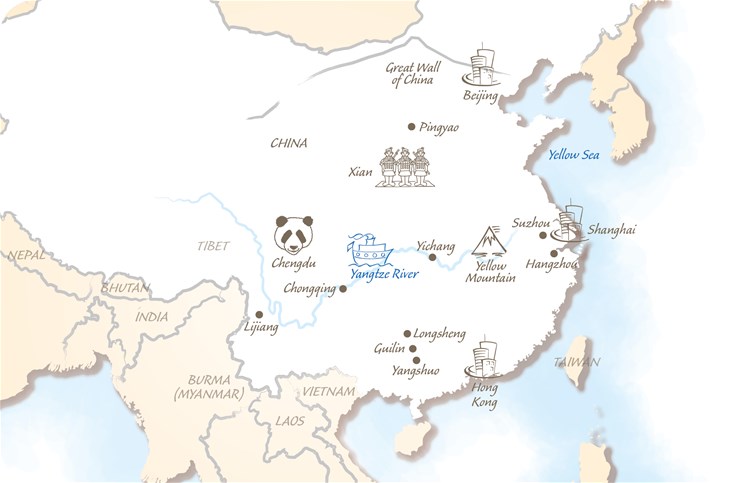 ---
Our most popular holidays in China
To book
We believe booking online is no substitute for one-on-one service. Between them our expert travel consultants have travelled to over 96% of the world's countries. As a result the service and advice they offer is second to none.
Special Offers for China, Hong Kong & Japan