The central South Island boasts an incredibly diverse landscape, from the spectacular shimmering ice formations of Franz Josef Glacier and the snow-capped peak of Mount Cook, to the turquoise waters of Lake Tekapo and towering gorges of Arthur's Pass National Park. Christchurch, the largest city in the region boasts extensive botanical gardens and the quaint town of Akaroa, nestled in a dormant volcano, is not to be missed.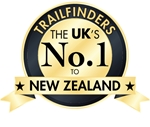 Trailfinders is the UK & Ireland's No.1 Tour Operator to New Zealand
and most of our travel consultants have travelled extensively here. What we specialise in is tailormade holidays in New Zealand and with us, in every part of the country, you can pick and choose how you'd like to get around, where you'd like to stay and how you'd like to experience the attractions.

Speak to a Travel Expert
We believe booking online is no substitute for one-on-one service. Between them our expert travel consultants have travelled to over 96% of the world's countries. As a result the service and advice they offer is second to none.
OUR HOLIDAYS TO CENTRAL SOUTH ISLAND
WHERE TO GO IN CENTRAL SOUTH ISLAND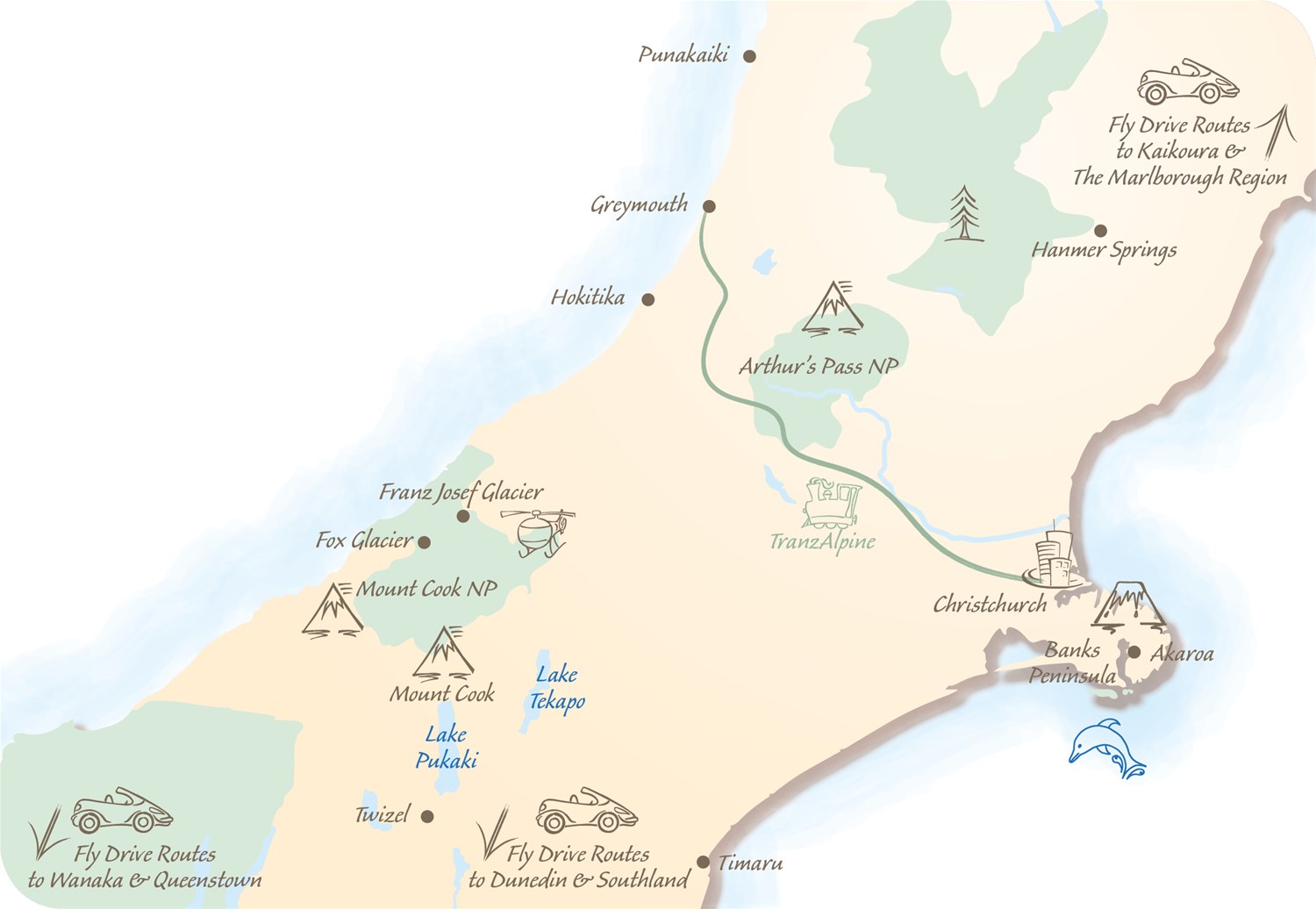 Christchurch & Akaroa
While parts of Christchurch are yet to fully recover from the 2013 earthquake, the Garden City's beautiful botanic gardens and eclectic mix of heritage and modern architecture mean it's still a good option for a short stay. An hour and a half's drive east, the lush Banks Peninsula was originally an island formed of two volcanic cones and is now home to the scenic township of Akaroa. With its unique French colonial history, rare Hector's dolphins frolicking in the bay and a passion for fine cuisine, Akaroa makes for a wonderful stop on any itinerary.

Franz Josef & Fox Glaciers
Poised in the heart of glacier country on the beautiful west coast, the awe-inspiring Franz Josef and Fox Glaciers are best experienced on a thrilling helicopter adventure, where you can marvel at the cascading blue ice from above or hike across the surface with an experienced guide. Ever a land of contrasts, the small village of Franz Josef is set amongst lush rainforest and offers an ideal base to explore the region; visit rare kiwi chicks at the West Coast Wildlife Centre and enjoy a relaxing dip in the Glacier Hot Pools as night falls.

Lake Tekapo & Lake Pukaki
The inherent beauty of this region becomes apparent as soon as you set eyes on the vivid glacial waters of Lake Tekapo and its lesser known but equally spectacular neighbour, Lake Pukaki, which reflects Mount Cook in its shimmering turquoise waters. A UNESCO Dark Sky Reserve, the region becomes even more magical at night when the stars of the Milky Way dazzle above you. Deservedly popular, lakeside accommodation can be busy but the nearby town of Twizel makes for a great base from which to explore these glorious lakes and majestic Mount Cook.
OUR RECOMMENDED HOTELS IN CENTRAL SOUTH ISLAND
THINGS TO DO IN CENTRAL SOUTH ISLAND
Central South Island

Fast Facts

flightaccess_time
Flight Time to Central South Island
Approx
hours
public
Visa Required?
£20 Off your visa service charge if you have booked your holiday with Trailfinders.
verified_user
Recommended Immunisations
Diphtheria/Tetanus/Polio booster

20% Discount off immunisations at our London Travel Clinic if you have booked your holiday with Trailfinders.
business_center
Trailfinders Travel Insurance
Enjoy comprehensive cover in Central South Island from just £65 for 7 days with our superb value Single Trip Travel Insurance.
Visa information given is given for British citizens holding a valid UK passport with at least 6 months validity remaining. Immunisation guidelines assume routine UK childhood immunisation has been given and will not apply to all situations. Medical advice should be sought. Your Trailfinders consultant will advise you of the specific visa and immunisation requirements for your trip.
YOUR TRAVEL PLANS ALWAYS TO HAND, ANYWHERE, ANYTIME - YOUR ESSENTIAL TRAVEL COMPANION
Our free Viewtrail App stores your essential travel information in one secure place, ensuring we are with you from start to finish.
View your travel plans on or offline, wherever and whenever you wish
Live flight notifications - real time information as you travel
Online check-in links and pre-tour notifications
Luggage allowance
Mapped places of interest - restaurants, shops, stations...plus route guidance back to your hotel
View e-vouchers and export them to your Apple wallet
Secure access to booking history, profile and insurance contact information
One touch emergency contact 365/24/7
Add to calendar function
Countdown to travel
Local time, weather, translator and exchange rate calculator
Sign up for our Email and be the first to hear about our Red Hot Offers and Travel Inspiration.
Our full range of 2020 brochures and the latest edition of the Trailfinder magazine are out now - get ahead of the rest and start planning your next escape.
If you can provide a few more details we can look at the best available options before we call you.