Brazil Holidays
For scale, spectacle and sheer exuberance, few countries can hold a candle to Brazil. With magnifcent natural spectacles, vibrant cities and glorios beaches A holiday to Brazil is unbeatable.

Rio de Janeiro boasts world famous beaches, the epic carnival in February and iconic views.
It calls itself the 'Cidade Maravilhosa' (Marvellous City) and it's hard not to agree.

Follow the samba drums north to sizzling Salvador, a city infused with music and colour and the gateway to hundreds of miles of golden sands.

Iguassu roughly translated means 'Big Water' and there can scarcely be a more appropriate description for the 275 separate waterfalls that form a decisive border between Brazil and Argentina in an epic rainforest setting.
Such is the power and intensity of the falls that approaching the famous Devils Throat along the wooden boardwalk is like walking the plank over the ends of the earth.

The Amazon basin spreads out over nine countries and has the most diverse and delicate ecosystem on the planet.
A few days in a jungle lodge or on a river boat is an enthralling experience The less well known, but no less impressive, Pantanal Wetlands is a vast area renowned for outstanding wildlife encounters in a pristine wilderness.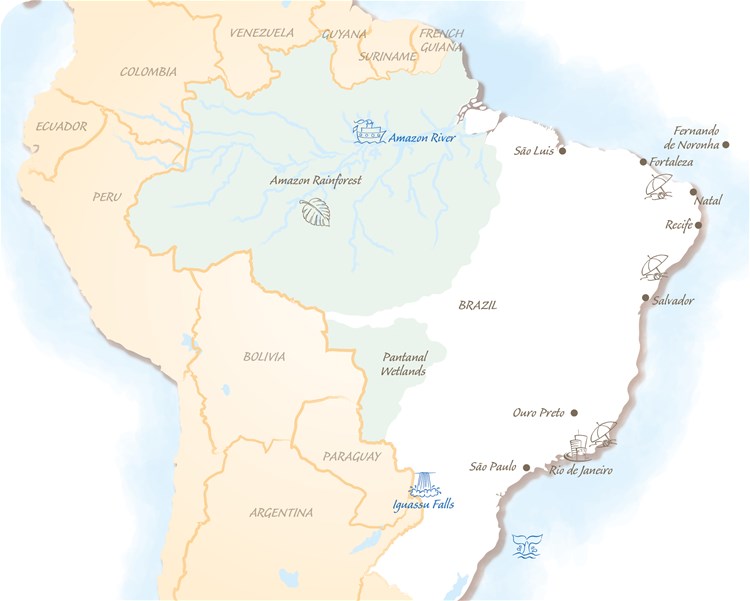 ---
To book
We believe booking online is no substitute for one-on-one service. Between them our expert travel consultants have travelled to over 96% of the world's countries. As a result the service and advice they offer is second to none.
Special Offers for South & Central America