Colombia Holidays
Colombia is a colourful, lush, musical, tropical, vibrant country surging to the top of the world's must-visit lists.
Having shed its troublesome reputation, Colombia is back and is crying out to be explored.

Holidays in Colombia reward you with an incredible variation of sights such as the Lost City (Ciudad Perdida), a Machu Picchu-style ruined kingdom, lost in the jungle for a millennium until its discovery in 1973.

Only a few miles away are the pristine white beaches of Tayrona National Park, right up there with those of the Seychelles or Mauritius.

Sublime snorkelling, diving and other watersports are all on offer here whilst just a few hours along the Caribbean coast is historic Cartagena, an atmospheric, walled city with history, romance and tradition round every corner.

Palenqueras, ladies dressed in vividly coloured dresses balance bowls of delicious fresh fruit on their heads, vying for your attention with horse-drawn carriages, live Latin-American music and the bustle and smells of al fresco dining.

To the west, Cali is known as the capital of fiestas and the locals dance salsa on the streets en masse every Sunday afternoon, and often every other day of the week too.
The stunning basilica church of Santuario de las Lajas, close to the Ecuadorian border, straddles a vast canyon and could easily be straight from a hanseatic fairytale.

More graceful churches, intriguing museums and a thriving café culture, not to mention the mesmeric nightlife can all be found in the capital Bogotá.

Aside from the cultural hotspots of the main cities, the beautiful Andes flow into Colombia, as does the mighty Amazon and so, with all this put together, along side with the wonderfully friendly people; it's very clear why a visit to Columbia should be at the top of your list.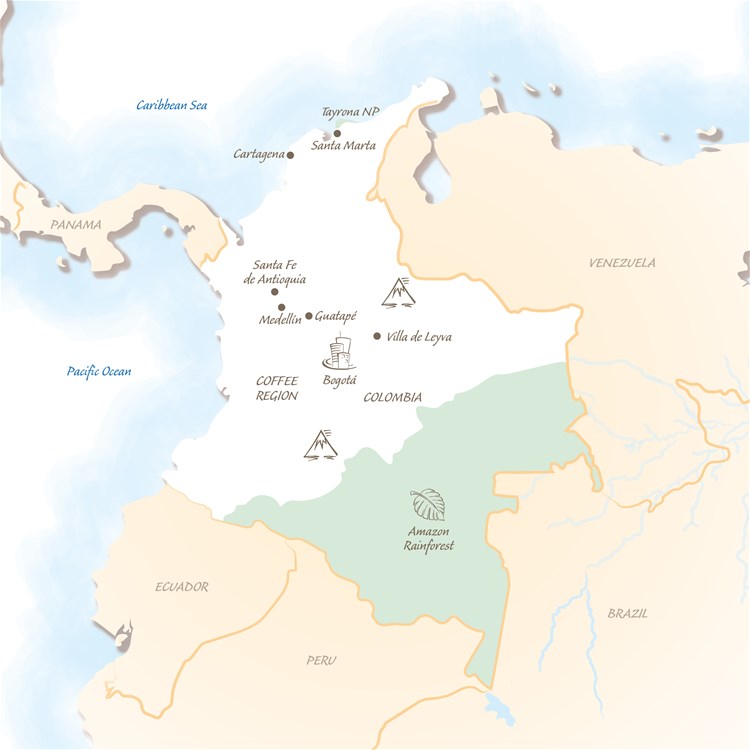 ---
Colombia Travel Highlights
To book
We believe booking online is no substitute for one-on-one service. Between them our expert travel consultants have travelled to over 96% of the world's countries. As a result the service and advice they offer is second to none.
Special Offers for South & Central America