Peru Holidays
Conquistadors, Incas and perhaps even extra terrestrials. A journey in the footsteps of Peru's empire builders throws up some intriguing surprises.

The home of the Inca Empire, Peru is home to a host of magnificent archeaological treasures from the temples and fortresses of Cusco and the Sacred Valley to the majestic cloud piercing Machu Picchu. Whether you hike along the Inca trail or take the train, your first view of the 'Lost City' is simply astounding. The historical treasures are not confined to the Incas though. You'll find huge pyramids, vast mysterious lines in the desert and grand spanish colonial cities all over the country.

The natural beauty is more than a match for the culture too with snow-capped mountains, lush jungles, alpine lakes and tranquil deserts all vying for your attention.

Throw in the warm-hearted Peruvian people and a rich and multi-layered culture and you have a truly unforgettable mix.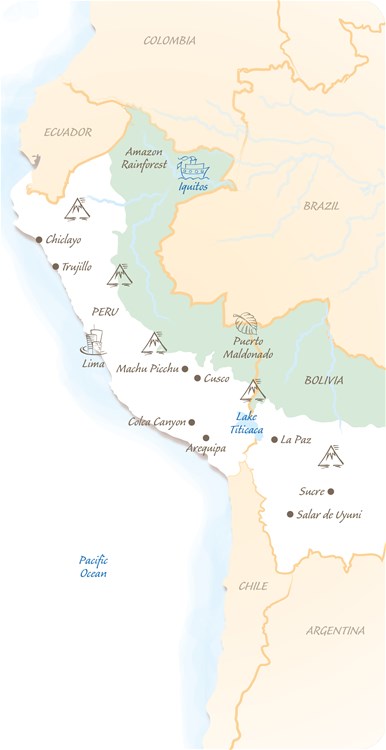 ---
To book
We believe booking online is no substitute for one-on-one service. Between them our expert travel consultants have travelled to over 96% of the world's countries. As a result the service and advice they offer is second to none.
Special Offers for South & Central America