Jordan Holidays
Sitting at the crossroads of the ancient world, the desert kingdom of Jordan is blessed with historical treasures - remarkable natural and made-made attractions that compete for your attention.

Close to the capital, Amman, lie two of the best preserved cities of the Decapolis, ancient centres of Roman and Greek culture.
The hilltop ruins of Gadara, near Um Qais, enjoy fabulous views over the Sea of Galilee and the Golan Heights, and Jerash is undoubtedly the best preserved Roman site in Jordan.

The origins of Petra go even further back into antiquity but the Rose Red City has aged gracefully and has to be seen to be believed. Your first glimpse of the Treasury as you emerge from the Siq is a memory that will stay with you forever.

Wadi Rum may well be Jordan's best kept secret; huge mountains rise out of the desert sand like surreal cathedrals with wind as their architects.
A 4WD safari amongst the dunes and oases and the chance to meet the local Bedouin is unforgettable experience.

Aqaba is an historic port city that is now home to the country's luxurious Red Sea resorts.
Aqaba and nearby Tala Bay boast a mild climate and access to excellent dive sites in the Red Sea, perfect for some relaxation in the middle or at the end of your holiday in Jordan.

The Dead Sea has the power to rejuvenate with its mineral rich waters and the resorts offer the chance to unwind after exploring this fascinating country with a dip in the buoyant salt waters or a pampering session at the hotel spa.
It could be that the lowest point on earth is the highlight of your tour.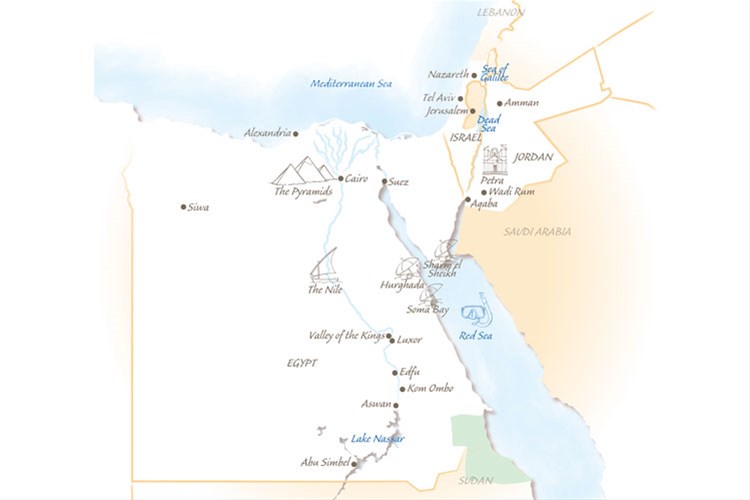 ---
To book
We believe booking online is no substitute for one-on-one service. Between them our expert travel consultants have travelled to over 96% of the world's countries. As a result the service and advice they offer is second to none.
Special Offers for The Middle East