Florida Holidays
Florida is just made for fun.

Almost year round blue skies and sun filled days gaze down on beautiful beaches, lush golf courses and some of the finest theme parks in the world.

For many, and it's probably fair to say, all those under a certain age, an Orlando holiday is all about the theme parks.

Of course we can help you with flights and car hire in Florida and at great value too.
Our unique Florida Fly Drives stretch from the tip of the Florida Keys to the state border and beyond, taking in all of the highlights of the Atlantic and Gulf Coast.
We also have a superb choice of Motorhomes in Florida and our consultants can help you choose between the lovely campgrounds scattered throughout the Sunshine State.

Lastly, don't let your imagination be bound by the state borders, Florida can be the start of a wonderful multi centre holiday too.
Cruise ships depart year round from Fort Lauderdale to the beautiful Caribbean islands and beyond.
There are also good rail links out of Miami and Orlando to rest of the country.
What could be more romantic than boarding an overnight sleeper to New York?.

We can also help you with multi centre flight holidays perhaps combining Florida with the great cities of the eastern sea board ,New York, Boston and Washington DC.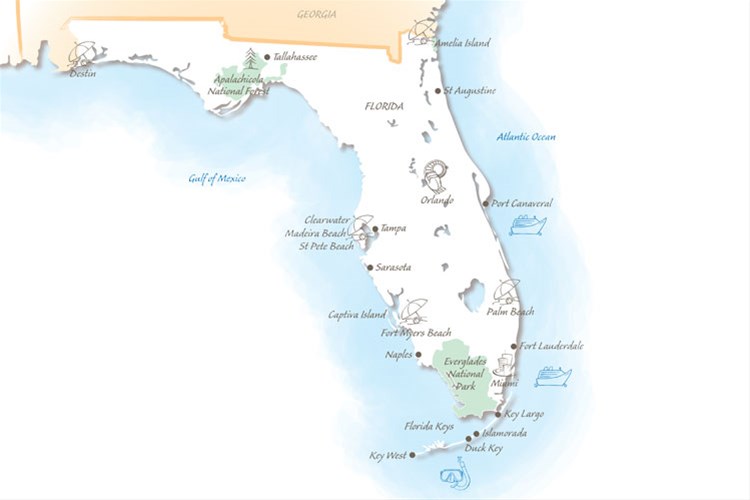 ---
How to explore Florida with Trailfinders
Florida Travel Highlights
Our most popular holidays in Florida
To book
We believe booking online is no substitute for one-on-one service. Between them our expert travel consultants have travelled to over 96% of the world's countries. As a result the service and advice they offer is second to none.