Journey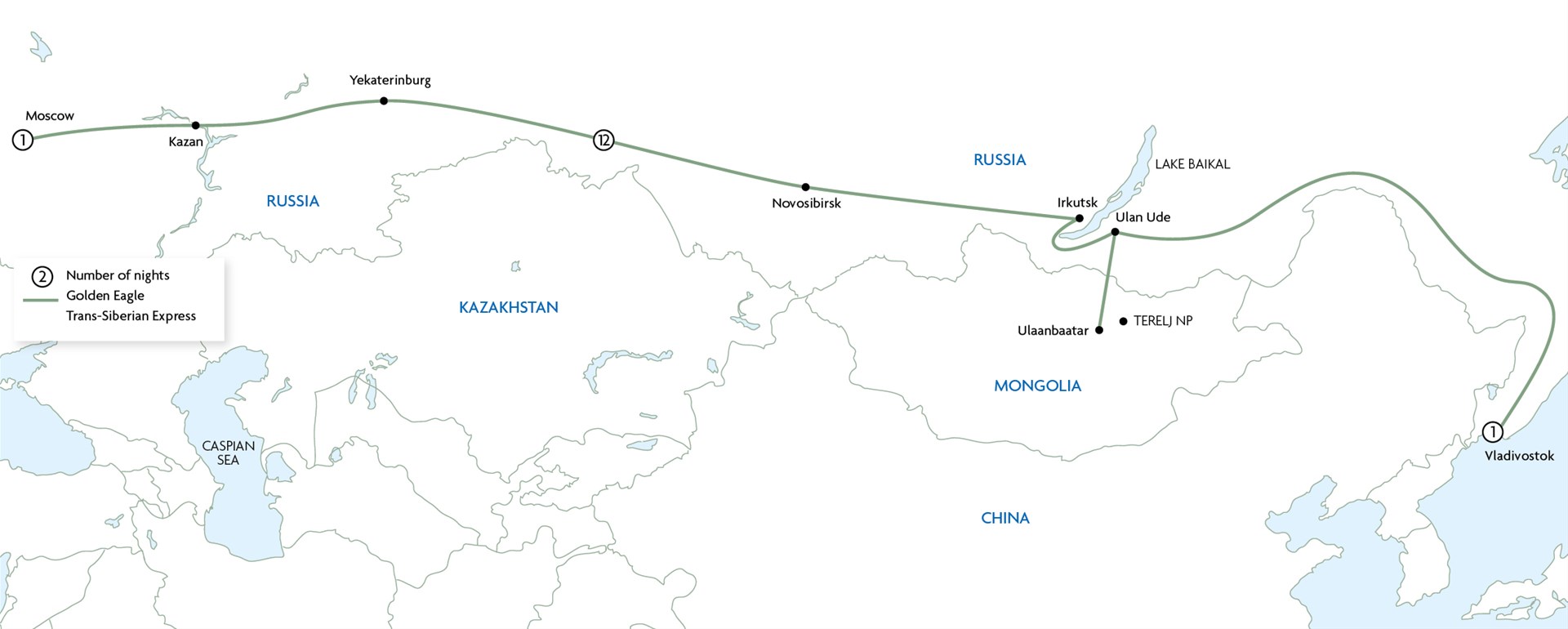 Somewhere between the opulence of imperial Russia and the engineering might of the Soviet Union, the Golden Eagle touring train cuts an enterprising path along the world's longest railway. Step into a luxurious world onboard and sit back and relax as the train makes the historic journey from the grandeur of Moscow across the brooding steppe, to Russia's far east at Vladivostok. With over a Century of history, the Trans-Siberian line remains an incredible achievement.
Your 15 day adventure begins in Moscow where you'll visit sites including the Kremlin and Red Square. On day two, board the Golden Eagle and slip into the timeless atmosphere onboard. You'll spend each night onboard so unpack just once and sit back and enjoy the incredible vistas along your journey. Travel through the Ural Mountains, visit historic Yekaterinburg and continue across the mighty Russian steppe to beautiful Lake Baikal. Soak up the view and enjoy a barbecue of freshly caught fish before continuing your journey into Ulaanbaatar, Mongolia by day 10. Visit the rolling hills of Terelj National Park then travel north back into Russia to enjoy your final three days as you approach your final stop at Vladivostok, where your incredible journey will come to an end.
Life On Board
Settle into your private en suite cabin where you can relax, read or simply watch the landscape unfold outside your window. Lunch and dinner are paired with wine and included in your journey, served in the elegant Restaurant Car. The cuisine is a skillful blend of the finest Russian ingredients with creative international dishes.
All off-train excursions are included, as well as a selection of on-board activities including Russian language lessons, lectures from experts on the local history and culture and local musicians playing in the bar. At the end of the day, why not relax in the Bar Lounge car to enjoy the blend of renowned luxury with a distinctly Russian heart.
All on-board amenities combined with exploring each destination with local guides, makes this is the only way to experience the history, diverse cultures, incredible railroads and natural beauty of this enigmatic land while travelling in unmatched luxury.
Golden Eagle offers differing levels of accommodation from which to enjoy your rail adventure:
Silver Class Cabin -
This comfortable cabin features a seating area by day with a large picture window to admire the views, which becomes a small double bed at night with an additional single pull-down bunk if necessary. Whilst compact in size, it still has all the amenities available including an en suite wet room.
Gold Class Cabin -
For more space, upgrade to a Gold Class Cabin. Additional amenities include a private bathroom with power shower cubicle, a full double lower bed, underfloor heating and complimentary drinks from the Standard Bar List in the Bar Lounge Car.
Imperial Suite -
For the finest experience, travel in an Imperial Suite benefitting from a luxurious king-size bed as well as a lounge area with dressing table. Additional amenities include a complimentary mini bar, two large picture windows to fully experience the scenery and a complimentary bottle of Dom Perignon Champagne when you board the train to toast your journey.
Recommended Rail Holidays
YOUR TRAVEL PLANS ALWAYS TO HAND, ANYWHERE, ANYTIME - YOUR ESSENTIAL TRAVEL COMPANION
Our free Viewtrail App stores your essential travel information in one secure place, ensuring we are with you from start to finish.
View your travel plans on or offline, wherever and whenever you wish
Live flight notifications - real time information as you travel
Online check-in links and pre-tour notifications
Luggage allowance
Mapped places of interest - restaurants, shops, stations...plus route guidance back to your hotel
View e-vouchers and export them to your Apple wallet
Secure access to booking history, profile and insurance contact information
One touch emergency contact 365/24/7
Add to calendar function
Countdown to travel
Local time, weather, translator and exchange rate calculator