Journey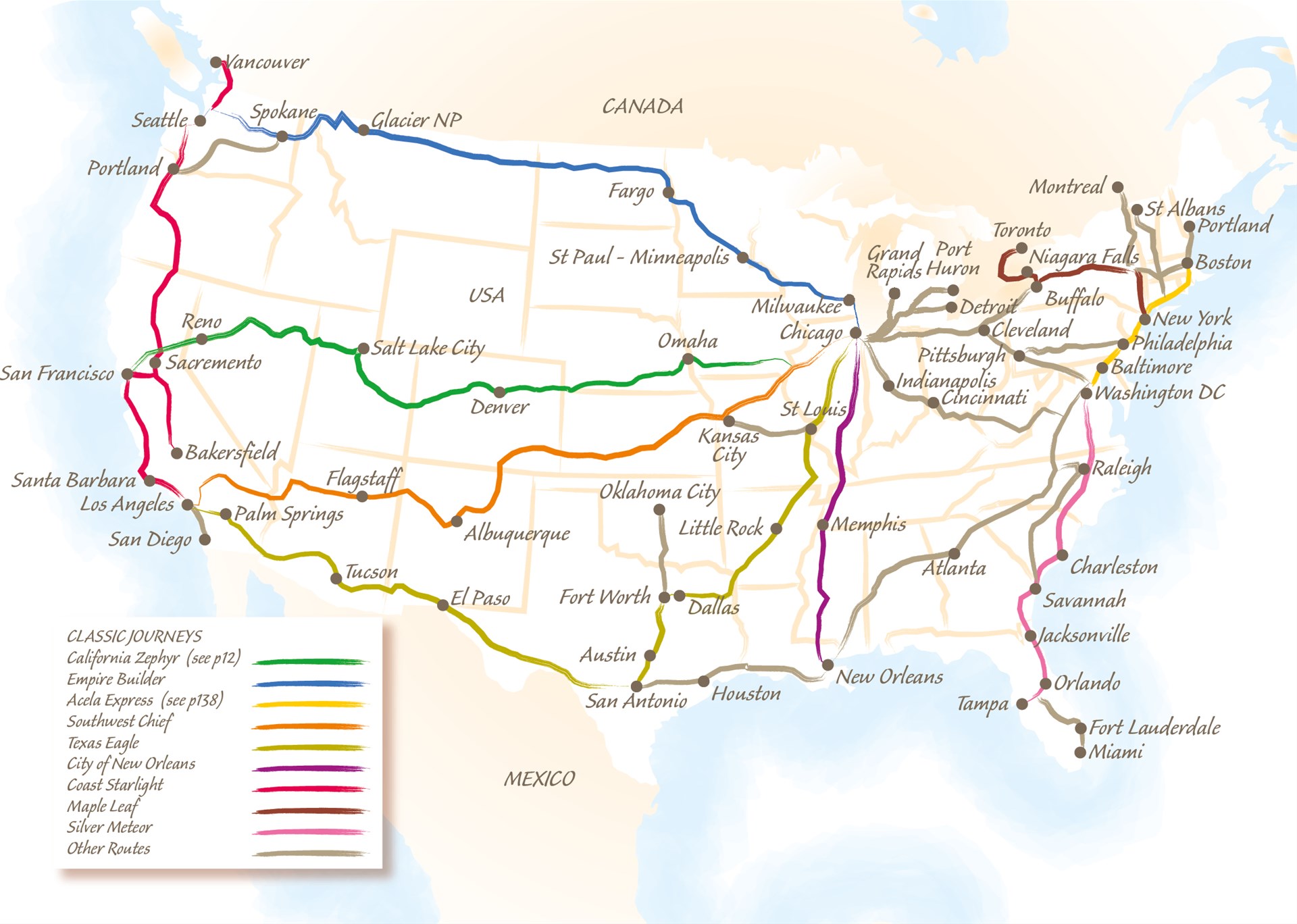 Travelling over 2,200 miles from Chicago to California the Southwest Chief starts and ends in the same states as the California Zephyr however the route travelled lends the journey a very different experience.
The whole journey takes 43 hours with two nights on the train but you might wish to hop off in Williams to connect with the Grand Canyon Railway, Flagstaff for the superlative national parks scattered about Arizona and southern Utah or Sante Fe for an insight into the rich Native American and Spanish Colonial history of New Mexico.
Life on Board
Amtrak operate Superliner Trains on the Southwest Chief that include a dining car that serves hot meals prepared onboard for breakfast, lunch and dinner.
All meals for First class passengers and those with sleeping accommodation are included in the price of their train ticket. Coach class passengers can dine for an additional charge.
There is also a Sightseer Lounge with oversize windows that comes complete with swivel chairs facing out, table seating, a lounge area and bar.
Sleeper Accommodation
What could be more romantic than drifting off to sleep to the gentle rocking of your train rolling through the night? Sleeper accommodation is available on most long distance Amtrak Superliner and Viewliner trains and are a comfortable and surprisingly affordable way to travel with upgrades available from as little as $150 per person per night.
All meals on board are included for Sleeping Car passengers and standard amenities include plug sockets, air conditioning, individual reading lights, a clothes rack, fold-down table, fresh towels & bed linens, soap & shower amenities, personal service (turn-down, coffee, paper, make-up bed), bottled water and daily newspaper.
Roomettes -
Roomettes are ideal for one or two passengers, with two comfortable reclining seats on either side of a big picture window. At night, the seats convert to a comfortable bed and an upper berth folds down from above. Toilet & showers are available nearby in same train car.
Bedrooms -
Bedrooms are ideal for two passengers, but can accommodate three. Each room has a large sofa style seat with two individually reclining sections, and a reclining easy chair. At night, the sofa converts to a comfortable bed and an upper berth folds down from above. All Superliner Bedrooms feature private, self-enclosed bathrooms with toilet, sink and shower.
Family Bedroom -
The Family Bedrooms are ideal for 2 adults and 2 children and span the entire width of the car and have two picture windows. The sofa style seat and two reclining seats convert to beds and the two upper berths fold down from above. Toilet & showers are available nearby in same train car.
Recommended Rail Holidays
YOUR TRAVEL PLANS ALWAYS TO HAND, ANYWHERE, ANYTIME - YOUR ESSENTIAL TRAVEL COMPANION
Our free Viewtrail App stores your essential travel information in one secure place, ensuring we are with you from start to finish.
View your travel plans on or offline, wherever and whenever you wish
Live flight notifications - real time information as you travel
Online check-in links and pre-tour notifications
Luggage allowance
Mapped places of interest - restaurants, shops, stations...plus route guidance back to your hotel
View e-vouchers and export them to your Apple wallet
Secure access to booking history, profile and insurance contact information
One touch emergency contact 365/24/7
Add to calendar function
Countdown to travel
Local time, weather, translator and exchange rate calculator